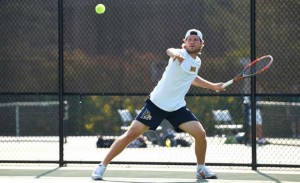 The Drexel women's tennis team kicked off their 2014-15 season with roaring success as two freshmen claimed singles championships at the Saint Joseph's Invitational last weekend.
The Dragons trotted out veterans Erin Bowsher and Nicole Pivonka to start flight one. Pivonka started off with a bye and bypassed University of Delaware in three sets to advance to the finals. There she was stopped by host Saint Joseph's University in straight sets, 2-6, 2-6. Bowsher started off with a win in three sets over Fairfield University but was subsequently dropped by Sacred Heart University, 5-7, 5-7.
In flight two it was Lea Winkler and freshman Clary Rodriguez Cruz who took the court. Winkler raced to two wins: three sets over Sacred Heart and straight sets over Saint Joseph. In round three however, she was nipped by Villanova University, 6-7, 3-6. Cruz began with a bye and won her first three rounds all with relative ease, and all in straight sets. Predictably, the final match against Villanova proved to be much tougher but she claimed the title in three sets, 4-6, 6-2, 10-8.
Fiorella Coria, Ryshena Providence, and Kendra Bunch then went for the Dragons in flight Three. Coria was awarded with a bye and marched through her first two matches in straight sets against La Salle University and Villanova, respectively. She fell in the semi-finals to her fellow Dragon, Providence, in straight sets, 2-6, 2-6.
In her path to the finals, Providence rolled through in four of the five rounds in straight sets. She edged out Delaware in three sets, winning the third set 10-8. She went on to face fellow Dragon freshman Kendra Bunch. Bunch, like Coria, had a bye to start off the flight and eased with straight sets all the way until the finals. Providence would prove to be too much as she went on to win the title in a straight set 6-3, 6-3 victory.
For the final flight four, Drexel sent out four players. Amanda Tilles, Mel Reyes, Aysenil Orhon, and Jennifer White all took flight. Tiles and Reyes would both exit in round two in straight sets. White would lose her first round matchup in straight sets against Loyola University Maryland. Orhon started flight four with a bye and won her first two matches in two and three sets. She would retire in straight sets against Delaware in the semi-finals.
The Dragons would seek to build on their two singles championships into the doubles games as Pivonka and Rodriguez were put as doubles teammates in flight one. The duo would blaze through the first three rounds and go up against Delaware in the final match up. It was not meant to be however, as Delaware would escape in a 9-8 win over Drexel to capture the championship. In the same flight, Bowsher and Winkler sought out to win the consolation ladder after being bounced out by Villanova in round one. The two would indeed prove victorious with a 9-8 win of their own in the final over Fairfield.
In the flight two doubles, Coria and Orhon would fall in round 3 against Delaware, 1-8. The talented freshmen, Providence and Bunch, could not replicate their singles successes, as they would fall in the opening round. Finally, Amanda Tilles and Jennifer White entered flight two with a bye but could not get past Loyola in round two, losing 4-8.
Head Coach Mehdi Rhazali was more than pleased with the freshman play.
"We played our line-up the best way we could, and everything paid off. The freshmen are a huge addition to the team. They brought a lot of energy and challenge to the older players. The freshmen are mature on the court, play smart tennis and are hungry to win and prove themselves," he said. "I have very high expectations from the freshmen and from the entire team. I believe that this year we can meet some of our program's long-term goals. Last year, we went 13-5. We are going to try to do better to improve our [Colonial Athletic Association] standing and do well in the championships."
Looking to ride on the heels of their successful performance, the women's team will take their talents to the Villanova Invitational Oct. 3-5.