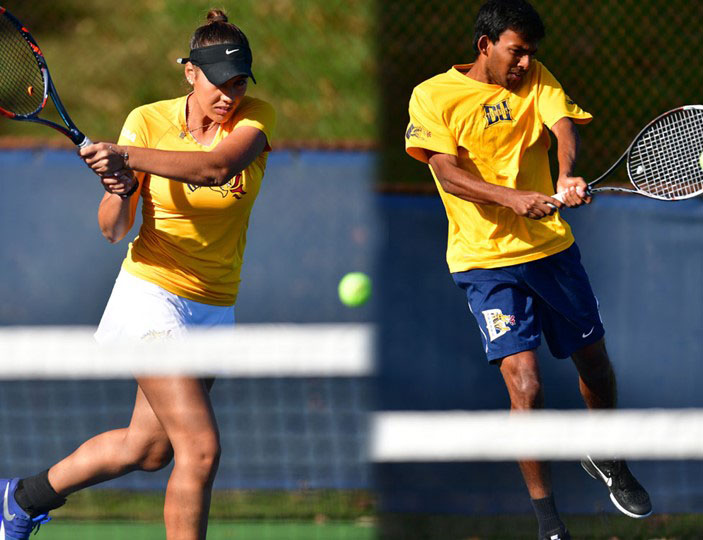 Both the Drexel University men's and women's tennis teams headed to Bradenton, Florida, March 11-12 to train and compete at the IMG Academy. A tough match March 11 against the University of Connecticut Huskies saw the men take a convincing win, 6-1, while the women's team conceded their contest, 5-2.
The men's team started off right by stealing the doubles point after winning all three match-ups with identical scores, 6-4.  Moving into the singles, the Dragons continued their winning streak by taking five of the six matches, all in straight sets.
In the top spot, senior Hamza Laalej won 7-5, 7-5, followed up by senior Balaji Lakshmanan who won 7-6(2), 6-2 at No. 2. Junior Sinan Orhon and freshman Sanil Jagtiani followed suit with wins at No. 3 and 4 in similarly impressive style. Sophomore Youssef Lahlou closed out the day with a 6-0, 6-1 win at No. 6 to hand victory to the Dragons.
The women's team faced a tough contest against their UConn counterparts, and couldn't clinch the win despite a five-hour fight. Although the pairing of senior Clary Rodriguez Cruz and freshman Salma Ziouti took one of the doubles matches, 6-4, the two other pairs faced steep competition and eventually the Dragons dropped the doubles point.
Across the ladder in singles, close games came down to crucial last sets and crunch points, where unfortunately the Huskies came out primarily on top. However, Ziouti held strong at No. 3 to take a three set win from Jacquelyn Fitz-Randolph 6-4, 4-6, 6-4. Bouncing back from some time out with injury, freshman Mya Fuentes was also dominant as No. 5 and took her win in straight sets over Zaina Zaki 6-1, 6-2.
While both teams were geared up to take on Colgate University March 12, the match was rained out in Bradenton, Florida. The men's team will return to action March 27 at 1 p.m. when they host Fairleigh Dickinson University, and the women's team will host the University of North Carolina Wilmington March 25 at 9 a.m.