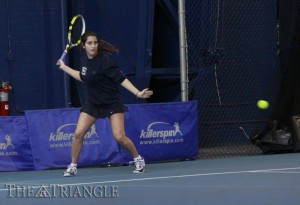 The Drexel men's and women's tennis teams will begin their respective Colonial Athletic Association tournaments in similar situations —- eerily similar, in fact.
The men's team, seeded fourth in the field, will face the fifth-seeded University of Delaware in the quarterfinals in a rematch of the final match of the regular season. The women's team, seeded fifth in its tournament, will face the fourth-seeded Blue Hens in the quarterfinals as well, which is also a rematch of the final regular-season match.
It's almost like the CAA wanted to fuel the longstanding athletic rivalry between the two foes. The two teams will have a chance to take down their vaunted rivals April 19 in the tournaments, and Drexel coach Mehdi Rhazali is confident in his squads' chances.
"If we play smart and stay focused and work hard for every point, I don't see what can stop us from the semifinals," Rhazali said of both teams and their prospective matchups with Delaware.
On the men's side, the Dragons defeated the Blue Hens in their only matchup of the season on the back of sophomore Badr Ouabdelmoumen, Drexel's premier men's player, who compiled a stellar 8-3 record on the season.
"He has a huge forehand and great shot selection," Rhazali said, speaking of the talent of Ouabdelmoumen, whom he called the best player on his team. "He is mentally tough and believes that he can win every match, and I think being that confident helps him."
Ouabdelmoumen's performance in winning both singles and doubles matches helped the Dragons beat Delaware April 6. He will be called on to play in both singles and doubles once again, paired with freshman Xabier Saavedra, who will also participate in both doubles and singles play.
The other men participating in singles will be senior Jeganathan Srinivasan, junior Skyler Davis, sophomore Dan Koehler and junior Alex Fioravante. All but Fioravante will be playing doubles matches as well, with sophomore Dan Hansen stepping in to double up with Srinivasan.
The Hansen-Srinivasan pairing has been the Dragons' bread and butter in doubles play, as the two went 8-1 together during the season. Their success will be integral to the Dragons earning the doubles point in the CAA Tournament.
To Rhazali, confidence and building off success is key.
"Beating them two weeks ago definitely helps us know what to do and what to expect," Rhazali said when asked about his confidence on the men's side. "Again, this is tennis, [and] momentum can shift anytime, [but] knowing that we have done it before is going to help us stay mentally tough and believe that we can do it again."
Drexel's women's team has not been as lucky as the men's in terms of recent victories. In their April 6 matchup with the Blue Hens, the women barely missed topping their rivals by a team score of 4-3.
Junior Zeynep Mafa, a First Team All-CAA selection, won both her doubles and singles matches against the Blue Hens, earning the women the doubles point and a singles point. But her teammates were unable to provide sufficient support, and they will have to be the key players if the Dragons plan on getting to the semifinals.
"We lost to Delaware before, but this time we worked on our weaknesses and we believe that we can do it," Rhazali said when asked about his women's team. "I think we lost to them because we didn't stay in the points for too long. We were too aggressive, and our shot selection wasn't efficient enough."
If Mafa can continue her fantastic form, the women's team should be guaranteed at least two points. From there, the onus falls on her teammates.
Rounding out the singles players, the Dragons will send out sophomore Nicole Pivonka, junior Marcela Rosales, senior Emma Brook, junior Alex Bell and sophomore Aysenil Orhon. All six women will also be featured in the doubles matches, led by the power duo of Mafa and Rosales.
But while the emphasis from both teams is put on their elite players, Rhazali emphasized the importance of team play in the quarterfinals.
"I honestly believe that we all need to step up. This is an opportunity to do something we have never done," Rhazali said. "We are healthy, physically strong and confident. The CAA Championships happen only once a year, and we are very excited. We have a young team who works hard on and off the court."
Friday should bring two tightly contested matches from two hardened rivals. Fans of CAA tennis will be delighted no matter the result, with high-caliber individual talent and evenly matched teams.
The deciding question will be: Which team will bring Rhazali's ideal "smart and focused" play? If the Dragons bring it, and Rhazali is to be believed, we can expect to see both the men's and women's teams in the semifinals.