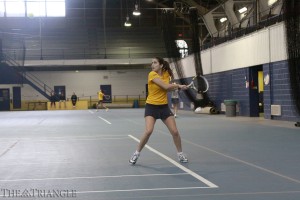 Collegiate tennis players from around the country competed Oct. 17-21 at the 2013 Intercollegiate Tennis Association Northeast Regional Championships held at the Murr Center at Harvard University. Players were competing for an automatic entry into the 2013 International Tennis Academy National Intercollegiate Indoor Championships in Flushing, N.Y. The Drexel tennis team sent several players to compete in the tournament.
Juniors Badr Ouabdelmoumen and Dan Koehler along with senior Skyler Davis competed on the men's side. For the women, seniors Marcela Rosales and Zeynep Mafa, junior Nicole Pivonka, and freshman Fiorella Coria all made appearances at the national tournament.
Since they started practice back in August, Dragons head coach Mehdi Rhazali has preached competitiveness to his players. He believes that Drexel isn't far away from competing consistently with the ranked teams of Division I tennis.
"Our players have the talent to compete with some of the best teams like Princeton and Cornell," Rhazali said about his team's potential. At the ITAs, the Dragons faced the very same competition their coach spoke about.
On the women's side, Mafa took on Cornell University freshman Marisa Cusick, one of the top 35 ranked newcomers in the country, in the first round of play and was defeated 0-6, 0-6. Pivonka, who received a bye in the first round of competition, faced another highly touted freshman, Harvard University's June Lee. Pivonka battled in a tough match but also fell 1-6, 6-1, 0-6.
"In Nicole's match, she started flat and defensive, but then she changed her game and became more aggressive; that's why she took the second set," Rhazali said of Pivonka's match. "[Lee] was really good and became more aggressive and won third set."
In doubles, Rosales and Mafa took to the court in the first round against Katherine Flanagan and Dorothy Tang of Princeton University and lost 8-5. Pivonka and Coria challenged Brown University duo Hanna Camhi and Dayna Lang but were defeated 8-2.
On the men's side, Ouabdelmoumen competed in the singles draw. In his first-round match, he came from behind and defeated Hofstra University's Ari Richman 5-6, 6-4, 6-4. In his second-round match, Ouabdelmoumen played competitively against Alex Sidney of Cornell but fell late by a score of 3-6, 6-2, 3-6.
"When Badr lost the first set, he didn't quit. He stuck to everything we have been teaching everyone all season, which is to keep fighting — and he did," assistant coach Jaime Vazquez-Catoira said. "He won the second set, but that third set was tough. … He fought but just couldn't get the victory."
Meanwhile, in men's doubles, Koehler and Davis lost to Army by a score of 8-3.
In the upcoming week, the men will take on Rider University Oct. 27 in their last team match of the season. Meanwhile, the women wrapped up the fall season Oct. 23 with a 7-0 win against Monmouth University at Vidas Athletic Complex.