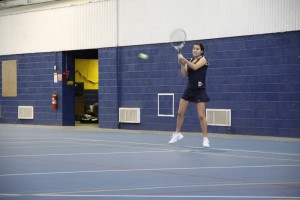 The beginning of a new season is about hope. A newfound sense of optimism and the belief that fortunes will either change for the better or perhaps stay at a previously positive level. For the Drexel men's and women's tennis teams, the expectation is that this season will be an improvement on the last. Both teams will get the opportunity to begin their respective seasons this weekend, as the men's team takes part in the Saint Joseph's Invitational at Saint Joseph's University Sep. 21-23, while the women will make the short trip to the University of Pennsylvania and play in the Cissie Leary Invitational on the same weekend.
Both sides will be looking to go onto new heights this season, not just in the regular season, but also in the Colonial Athletic Association Tournament and beyond. For the men's team, last season saw them finish at a respectable 9-8; however, the season ended on an unfortunate skid, as they lost three straight dual matches to George Mason University and twice to the University of Delaware (with the second loss coming in the first round of the CAA Tournament). Nevertheless, this year's squad is a young and talented bunch, with only 3 upperclassmen, in comparison to the 5 sophomores. One of the more important players to return this season is sophomore Badr Ouabdelmoumen. In 2011-2012, Ouabdelmoumen had a 12-7 record. As impressive as that was initially, it becomes even more so when one takes into account that not only was he a freshman, but he did all this at the No.1 position. The Dragons will need Ouabdelmoumen and others to be at their best from the get go in the Saint Joseph's Invitational if they wish to go far this season.
At one point last season, the women's tennis team strung together a run of 7 wins in 8 matches, including a month-long undefeated streak which saw them win five matches in quick succession. However, everything unfortunately came to a screeching halt in the quarterfinals of the CAA Tournament, when they lost to #1 seeded VCU 4-0.
This weekend's Cissie Leary Invitational at UPenn represents, in a way, the onset of a long redemption period for them. The mixture of youth and experience for Drexel (4 juniors and seniors and 3 sophomores) should act as a good blend for the team, which will comprise juniors Marcela Rosales and Zeynep Mafa and senior Emma Brook.
This weekend acts as the starting point for Drexel Tennis, a starting point to what should, in the long run, be a memorable and long season.