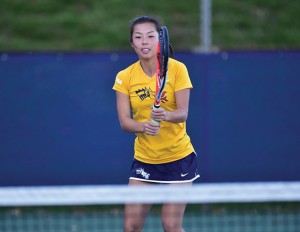 With the sky clearing up and the sun coming out, the scores for the Drexel University women's tennis team looked as bright as the weather. The Dragons won their match against Fordham University Jan. 29 with a score of 5-2, making their record 3-0 this season. Jan 31., Things looked good for the men's team as well, when they won by a close score of 4-3 against Morgan State University during homecoming week. With this win, their overall record improves to 4-0 and an overall record of 14-1 against the Bears.
Last year, the Dragons were successful in winning the doubles points to lock in the victory– the same thing occurred during this matchup.
Two matches went in three sets, but only one of them pulled through with sophomore Clary Rodriguez Cruz winning with a score of 5-7, 6-4 and 6-3 at singles. The second third-set match played an excellent 10-point tiebreaker, but ended in defeat as the sets finished with a score of 1-6, 6-4 and 10-3 loss.
Winning the singles match in a third-set tiebreaker, Cruz also stepped out on the court to play doubles with junior Honami Yawaza. Yawaza won her singles match 6-4 and then played the number one doubles spot with Cruz. Falling short of two games, the number one doubles team for Drexel lost 4-6 to Fordham's doubles team, Mayu Sato and Hannah Drayton, making this their first doubles loss this season. The Colonial Athletic Association double performers of the week, Lea Winkler and Kendra Bunch, won their doubles match with a match score of 6-2. Another win for the Dragons came from Ryshena Providence and Erin Bowsher winning 6-4 against the #3 doubles teams. Singles pulled off with four points, with Yazawa winning 6-4, 6-4, Cruz winning 5-7, 6-4, 6-3, Winkler winning 7-6, 7-6, 6-2 and Bunch winning with a bagel in the first set and 6-4 in the second set. While this week was great for Dragons on the tennis team, they have a tough week next week. The women will travel to play Lehigh University Feb. 6 and to the the University of Pennsylvania Feb. 7.
The men's tennis team won their match Jan. 31 with a very close score of 4-3 against the Morgan State Bears. Head coach Mehdi Rhazali is now the third-ranked coach of all time at Drexel. The top two Drexel doubles teams both won their matches. Senior Xabier Saavedra and sophomore Balaji Lakshmanan played the number one doubles spot after both being successful in winning their singles matches, with a score of 6-2. Sophomore Kashyap Ashok and freshman Sinan Orhon lost against the MSU singles player, but regained their momentum by beating the second doubles team with a score of 6-4.
Saavedra won his singles match in 2 sets, with a score of 6-1 6-4.
Lakshmanan, Orhon and Ashok all went to third sets, with only Lakshmanan coming out on top with a match score of 7-6, 7-6, 4-6 and 6-3.
Hamza Laalej, a sophomore who closed out the match for the Dragons, had a more difficult time in the first set, winning by a close margin of 7-5, and an easier time in the second set, winning 6-2. After suffering from a knee injury last season, he has improved his record to 2-0.
The singles score at the end was tied 3-3; the doubles matches decided the outcome of the score.  
The men's tennis team will travel to Lehigh University with the women Feb. 6.