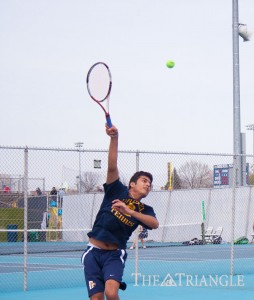 Drexel head coach Tricia Udicious wanted her men's and women's tennis teams to avenge losses from the regular season in this year's Colonial Athletic Association tournament.
They did just that — but unfortunately, after each team won their first round match, their seasons came to an end against the top seeds in each side of the tournament.
Both the Dragon men and women qualified for the tournament, which was held at Old Dominion University's Folkes-Stevens Tennis Complex, as number nine seeds. The men faced George Mason University (10-11, 2-3 CAA) and the women took on Towson University (14-8, 3-2 CAA).
Drexel men (7-6, 1-2 CAA) defeated George Mason 4-0 with singles wins from Nikoloz Kurdadze, Skyler Davis, Manu Bajpai, Bryan Nguyen, Mehdi Rhazali and Jeganathan Srinivasan. On the doubles side, the pairings of Kurdadze/Bajpai and Nguyen/Davis both came out victorious. The only blemish for the Drexel men was a doubles loss to George Mason's tough duo of Sargent and Hyre at third doubles.
Drexel's women (9-8, 2-2 CAA) defeated Towson 4-1, winning five of six singles matches with victories from Gozde Unkaya, Sonja Stosic, Zeynep Mafa, Emma Brook and Alex Bell. Their lone loss came at fifth singles when Elise Leizerovich fell to Nisha Shah of the Tigers. The women went 3-0 in doubles play to secure the win and move on to the next round.
"Both teams played great and executed their game plans very well," Udicious said. "I was very proud of both teams avenging earlier losses."
With great success in the first round, both teams drew the daunting task of meeting the number one seeds in the tournament. For the men, it was Virginia Commonwealth University (22-6, 6-0 CAA) and for the women, William and Mary (16-8, 5-0 CAA).
"Obviously drawing the number one seed is not what you want," Udicious said. "But both teams went out and played extremely hard before falling."
For the women, who went 0-6 in singles play and 0-3 in doubles to the highly skilled Tribe, the brightest spot of the day came from the first doubles pairing of Stosic/Mafa, who gave a scare to All-CAA duo Hope Johnson and Anik Cepeda. The Drexel women trailed the match 5-4 when William and Mary took over and clinched the doubles point with an 8-2 win at second doubles.
The men also went winless against number one VCU, falling in defeat 4-0. Despite strong outings from Srinivasan at fifth singles and the first doubles pairing of Kurdadze/Bajpai, the Rams were too much to handle for the Dragons, whose season came to an unfortunate close.
The number three seed, University of North Carolina-Wilmington (21-4, 5-1 CAA) defeated VCU for the men's title, and William and Mary cruised to their 21st title in 26 years.
Although neither Drexel squad came home with the championship trophy, some members of the team received some hardware to be proud of.
Nikoloz Kurdadze, Sonja Stosic and Zeynep Mafa earned All-CAA honors at an awards banquet held in Virginia. Kurdadze earned All-CAA second team honors for the second year in a row in singles play, and the pairing of Stosic and freshman Mafa earned third team All-CAA honors. Kurdadze finished the season leading the team in wins with a 14-6 record, and Stosic and Mafa led the women's in doubles wins, also with a record of 14-6.
"In such a tough tennis conference, garnering all-conference honors is a very difficult task and I am very proud of Sonja, Zeynep and Nikoloz for their performances throughout the year," Udicious said.
With the close of the 2010-11 tennis year, Udicious is pleased with how her teams represented Drexel this season.
"As a coach you look for constant improvement throughout the year," she said. "The best thing I can say about my teams is that we played our best tennis at the end. I am very proud of their performance, and proud to be their coach."