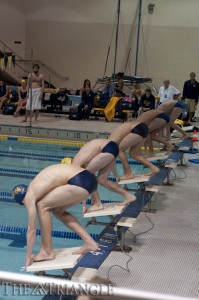 The Drexel men's and women's swimming and diving teams earned a 1-1 split against George Washington at Drexel Pool Nov. 5. The men's squad improved their record on the season to 3-0 with a 170-110 win, while the women's squad fell to 1-2 with a 164-98 defeat.
The men's meet had a variety of highlights. In the 200-meter medley, the quartet of freshman swimmers John Quagiliariello, Chad Schmidt, Mike Krohn and sophomore Alex Bagshaw took first place with a time of 1:34.96. Freshman Alex Galinskiy and Mike Schaeffer both posted their best times of the season so far in their respective victories in the 200-meter freestyle and the 50-meter freestyle. Galinskiy posted a time of 1:41.78, and Schaeffer posted a time of 21:32.
Head Coach Shawn Markey was pleased with the efforts of the men's team in last week's meet and during the entire season so far.
"We started out strong and are getting stronger every week," Markey said. "We have the strength and the depth this year to really go for it. It's an exciting time."
The fate of the women's meet was quite possibly set in stone from the beginning for Drexel. George Washington would win the first four events — one, three, five and seven — and it was not until event nine that Drexel would pick up a victory.
Such a victory came from senior swimmer Malin Viberg in the 100-meter breaststroke, as she had a time of 1:09.74. The other wins came via senior swimmer Devina Tyagi in the 50-meter freestyle, who won with a time of 25.14, and junior swimmer Lauren Faykes in the 200-meter butterfly, where she posted a winning time of 2:08.40.
Even in defeat, Markey was quick to see the bigger picture.
"Despite the record, our women's team is doing well," he said. "Almost every swimmer has improved in some way. The women's team is as strong as it has been in a long time. We were almost off a team record in the 200 freestyle. This group is strong. They're motivated."
As far as expectations go for the meet at Binghamton Nov. 12 and for the rest of the season, both Markey and assistant swimming coach Katie Koch are looking for one thing: progress.
"More records, best times," Koch said. And Markey agreed.
"The goal is to get this team better," he said. "We want our younger swimmers to perform like our seniors. Every weekend is a progression. We're starting to get more in shape and swim more competitively. We're getting the basics down, now we just have to focus on the skills."
Markey is also looking forward to this weekend's meet against Binghamton.
"This week is our first away meet," he said. "It's a good time for us to get closer as a team. It's just good to get in a different pool."
As far as the rest of the season goes, both Markey and Koch are optimistic about the present and the future. "We're competing well against these teams," Koch said.
"We've come a long way in one year," Markey said. "I want to beat more of the [Colonial Athletic Association] teams we play against. I'm really happy about the improvement of our team."
Nevertheless, Markey said that they are some ways away from getting to the top of the CAA and beyond.
"It will happen," he said. "It just takes a little time to get there."