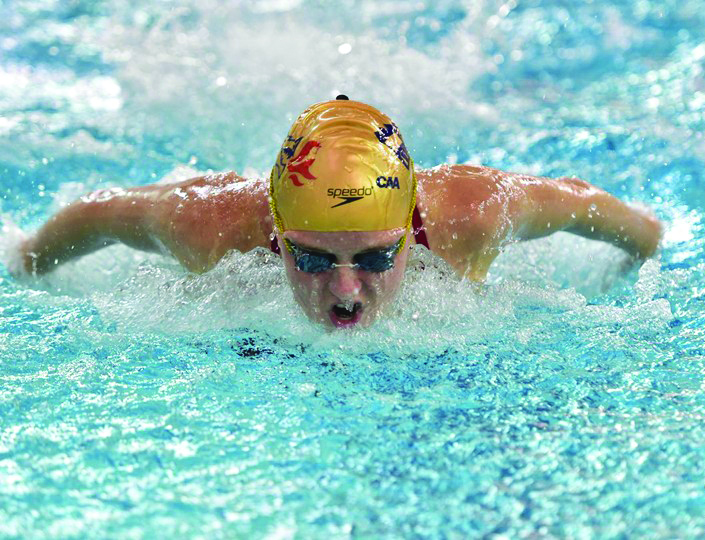 Senior Day spelled another week of success for the Drexel University men's and women's swimming and diving teams, as both the men and the women defeated their counterparts from Georgetown University at their last home meet of the season, Jan. 21.
This year, the Dragons were celebrating 11 seniors, four men and seven women: Zoltan Gercsak, Ivo Pejovic, Sean Swartz, Reed Vennel, Rachel Bernhardt, Claudia Duguay, Jaclyn Goulet, Madison Kramer, Emily Lau, Therese Mastrandrea and Aubrey Murray.
The men's team made its way to 12 first place finishes and broke two pool records on the day. Those record breaking events were the 400-yard individual medley and the 400-yard medley relay. Freshman swimmer Jason Arthur took home the record in the individual medley with a time of 4:01.51 and also contributed to the win in the relay; other relay team members included Ralph Cannarozzi III, Stathis Malamas and Sean Swartz.
In addition, the Dragons took home 10 second-place finishes and 11 third-place finishes to give them a final score of 160 to the Hoyas' 113.
The meet was extra special for the women as well, as they swam to 13 first-place finishes, including six pool records at the Daskalakis Athletic Center.  They took down the Hoyas with a score of 166-126.
Record breaking times came from freshman Alexa Kutch in the 200 backstroke, sophomore April Forsthoffer in the 400-yard individual medley, senior Aubrey Murray in the 200 freestyle event, Emily Kosten in the 50-yard freestyle event, and two relays teams, taking home new records in the 200-yard freestyle relay and the 400-yard medley relay.
Since the beginning of the month, the Drexel women have set 12 new records out of the 19 previous pool records held at the beginning of 2017.
In addition to their first-place finishes, the women took 11 second-place finishes and 9 third-place finishes to take down Georgetown.
Next up for the Dragons is a swimming-only event at Lehigh University. Both the men's and the women's swimming squads will travel to take on the Mountain Hawks on Jan. 28.