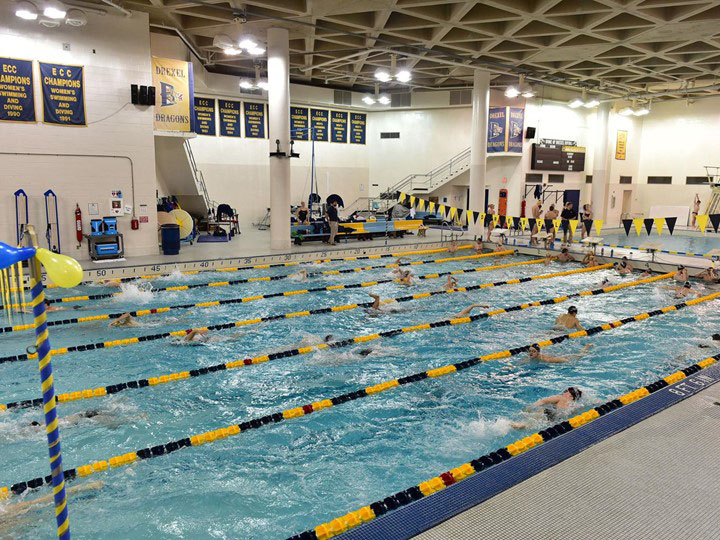 The Drexel University men's and women's swimming and diving teams hosted Northeastern University and the University of Delaware Jan. 5. The men competed against Delaware while the women competed against both Northeastern and Delaware. The Dragons were victorious over their fellow Colonial Athletic Association opponents which gives the teams a great start to 2019 leading up to the CAA Championships Feb. 20-23.
The women defeated Northeastern by a final score of 156.5-143.5 and defeated Delaware 185.5-114.5. The men dominated Delaware by a final score of 179-93. The women had 21 top-three finishes (five first-place) and swept the 200-yard individual medley event, while the men had 33 top-three finishes (12 first-place) and swept six of the 16 events. It was clear that all of the training leading up to their 2019 home opener contributed to their success as individuals and as a team.
Beginning with the 200-yard medley relays, the women's team, composed of junior Alexa Kutch, sophomore Gabrielle Rudy, junior Hollie Hopf and sophomore Natalie Gundling took first place ahead of Northeastern by over a second. The three men's 200-yard medley relays teams swam the three fastest times of the event. The winning team was composed of junior Jason Arthur, senior Ralph Cannarozzi III, freshman Paris Raptis and junior Stathis Malamas. They won with a time of 1:32.37.
The men placed second and third in the 1000-yard freestyle. Senior Luke Hanner was second with a time of 9:42.51 just over two seconds behind first-place winner Kevin Basch from Delaware.
In the 200-yard free events, freshman Jordan Washart had a fantastic performance with a second-place finish with a time of 1:56.53. The men took first and second in this event. Senior Patrick Cobb swam to a winning time of 1:41.77 with junior JonPat Ransom following behind with a time of 1:44.16.
In the 100-yard backstroke, Kutch placed first for the women's team with a time of 57.11 and junior Alicia Diaz came in second behind her with a time of 57.75. Arthur took first place in this event ahead of Delaware's Asher Kiely for second and Drexel sophomore Rhys Kawaguchi for third.
In the 100-yard breaststroke, the men swept the event. Cannarozzi had the winning time of 57.85, senior Harrison Schultz finished second with a time of 58.18 and sophomore Zachary Valenzuela finished third. The women were also successful taking first and third in this event. Freshman Megan Sicinski swam the winning time of 1:06.01 ahead of Delaware's Taylor Draganosky and Drexel senior Rebecca Churchill.
The 200-yard butterfly saw another sweep for the men with Raptis taking first with a time of 1:49.12, which set a new pool record. Sophomore John Klein was a little over four seconds behind Raptis for second, and freshman Even Wagner took third. On the women's side, senior April Forsthoffer took second place behind Delaware's Mina Feyrer, but ahead of Northeastern's Kelly Cheng.
Drexel's name just kept being announced as the events continued. In the 50-yard free, Rudy and Hopf took second and third, respectively, for the women behind Northeastern's Megan Clark. The men swept the event with sophomore Kiran Richardson taking first, freshman John Scully in second and Malamas in third.
For the diving events, freshman Becca Demaree took third place in the women's 3-meter dive with a score of 222.50 behind Northeastern's Elly Morrison and Delaware's Jessica Antonio. Junior Anthony Musciano was the only male diver at the competition and thus claimed first place in both diving events: the 1-meter dive where he finished with a score of 294.90 and the 3-meter dive with a score of 248.10. Demaree also had success in the 1-meter dive where she placed second ahead of Sabrina Chan of Northeastern but behind Antonio.
The men took a sweep of the 100-yard free event. Richardson swam a first-place finish in 46.30 with Malamas behind at 46.36 and junior David Kneiss at 47.23. The 200-yard back event saw the women take a second place finish by Diaz with a time of 2:05.90 only 0.76 seconds behind Northeastern's Bailey Smith. Arthur and Kawaguchi claimed first and third in the event.
Rudy and Sicinski battled it out in the women's 200-yard breast event. Rudy finished just ahead of Sicinski with a time of 2:22.02. Sicinski was close behind with a time of 2:22.66. The men took another sweep with Cannarozzi winning with a time of 2:11.15, senior Joseph Brown took second with a time of 2:12.82 and Schultz took third with a time of 2:13.54.
In one of the longer events, the 500-yard free, Washart and Gundling placed second and third for the women's team behind Northeastern's Carly Schnabel. The men had a first-place finish from Cobb with a time of 4:31.98 almost 10 seconds ahead of second-place finisher Basch (Delaware). Senior Dane Bell came in third.
Forsthoffer just narrowly won the women's 100-yard butterfly with a time of 57.49. Northeastern's Cheng swam to a time of 57.51 for second place and Delaware's Feyrer got third with a time of 57.56. The women then swept the 200-yard IM event with Rudy taking first ahead of Forsthoffer in second and Sicinski in third. They concluded the day with a second-place finish in the 400-yard free relay with a time of 3:35.61 behind Northeastern who took the win.
A successful competition for the Dragons. Both teams have not lost a meet at home so far this season. This week, Cobb received the CAA Swimmer of the Week honor and Musciano received the CAA Diver of the Week honor.
Next, the teams will travel to Towson, Maryland, to compete against the Towson University Tigers Jan. 12 before returning to the Daskalakis Athletic Center to host their senior meet against Georgetown University Jan. 19 at 12 p.m. Come out and support the Dragons as they attempt to keep their perfect record at home!