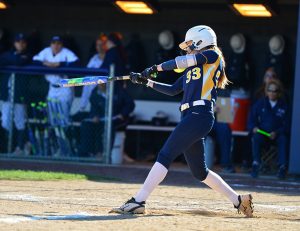 Things looked bleak for the Drexel University softball team when they walked off the diamond April 26 after suffering a two run defeat at the hands of city rival La Salle University.
The team's losing streak had extended across eight games and they hadn't managed to score a single run in over four games, giving rise to some legitimate concerns regarding the potency of their play.
In such times of uncertainty, the value of senior leadership cannot be overstated. Though only in her second year in University City, senior Paula Ueno has emerged as the clear leader of the Dragons.
She entered the CAA scene with a bang last year and quickly established herself among the top players in the league. In 2015, her astounding 0.401 average coupled with a 0.962 fielding percentage led to a First Team All-CAA selection.
This season, Ueno has continued building on the early success of her Drexel career. Her batting average has risen by 17 points and in this season she has already surpassed her hit total from last season.
In their match-up against Seton Hall University, who at 21-24 were also working to fight their way back to a 0.500 record for the year, Drexel quickly showed that this game would be different from their last few.
Junior Baeley Reed stepped up to the plate and led off with a strong double to right center field. Junior Savanna Johnson's grounder moved Reed from second to third, leaving it up to Paula Ueno to knock in a run. The senior came through, driving in Reed with an RBI single to left, wrenching the stubbornly freeloading monkey off of her team's back.
She didn't stop with the one run. Two innings later she made contact with a pitch from Seton Hall freshman Madison Strunk and deposited the ball beyond the center field fence, extending Drexel's lead to 2-0.
Sophomore Katie Haley kept the Pirates' batters on their toes, limiting their hits and keeping them off the board through the first 4 innings.
Seton Hall did break through in the 5th inning when junior Valerie Suto scored from third on a single. However, Drexel junior Sharon Zamora limited Seton Hall's advantage by losing a comet-like throw from center field to nab Pirate's senior Yasmin Harrell at the plate when she tried come around and score from second.
Drexel quickly answered in the following inning when Ueno led off with a walk and head coach Carl Taylor inserted freshman Jenelle Ladrido as a pinch runner to capitalize on her speed. A sacrifice bunt moved her into scoring position and junior Kimberly Chan brought her home with a clutch two-out double. They picked up one more when Zamora laced a single into right center, bringing the score to a conclusive 4-1 margin.
Seton Hall didn't go out quietly. Sophomore third baseman Alexis Walkden capped off the comeback with a two-run shot to right center, tying up the game and once again threatening the Dragons' victory prospects.
Drexel's Zamora made her turn count when she came to the plate in the bottom of the 8th. Her single set off the winning sequence when Seton Hall's freshman Ragen Reddick fumbled the relay throw and allowed Drexel's senior Tara Konopka to cross the plate for the walk-off run.
Unfortunately, that was all the excitement the Dragons got that week. A sweep at the hands of conference rival Hofstra University dropped their record to 17-29.
With only two weeks left in the season, each game is important to build some confidence before the conference tournament kicks off May 11. After a double-header with the University of Maryland Eastern Shore Hawks April 27, they will face the University of North Carolina at Wilmington in a three-game series this weekend, April 30 and May 1.