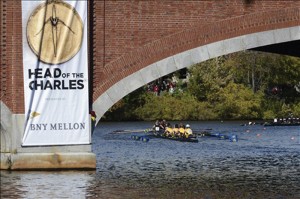 The men and women's crew teams of Drexel University traveled to Boston for the Head of Charles Regatta last weekend, Oct. 17. Both teams were looking to follow up on a successful Navy Day Regatta, and they certainly did not disappoint. The Head of Charles Regatta is now 51 years old, marking it as a historic rowing event. It is a very well known regatta, as it attracts over 11,000 athletes and 400,000 spectators. The large-scale event requires a race planning committee that works year round and over 100 volunteers to allow the regatta to run smoothly.  
Due to its scale, this is an event where both Drexel teams wanted to impress.  
The competition for this Regatta was steep, as you would expect from a venue this large. Some of the fierce competitors the Dragrons faced included the University of Alabama, Brown University, Northeastern University, Fordham University, Yale University, Harvard University and Massachusetts Institute of Technology. 
The Regatta began with the Drexel women's team racing in a 38-boat, club of eights division. There was certainly tough competition facing Drexel, but they were able to pull off a very impressive 17:42.33 time. This time notched Drexel a seventh place finish. Brown won the race with a time of 17:09.583. Out of 38 boats, for the Drexel women's team to find themselves in seventh was an impressive feat, especially at such a prestigious race. Their efforts earned them a spot to compete in next year's Head of Charles Regatta.
The men's second varsity eight team, in the Lois Krall boat, raced against 41 opponents. They were able to record a time of 15:44.724, which was good enough for an eighth place finish. They were less then a second away from finishing in seventh place as the University of California at Santa Barbara recorded a time of 15:44.136. Hobart College won this race with a time of 15:32.704.
Drexel men's varsity eight team found themselves in 20th place out of 27 competitor boats. The men finished with a time of 15:10.923. Drexel was just a second behind Georgetown for the 19th place finish, but unfortunately could not make the final push. Regardless, a 20th place is hardly anything to scoff at given the high level of competition. However, the team will certainly look to improve. Yale won this division with an impressive time of 14:18.970.
All three teams battled hard for their positions at the Head of Charles Regatta, and each group should be proud of their performance. On Oct. 24th, Drexel will be competing in the Schuylkill Regatta, a race in which Drexel is the five-time defending champ. Drexel will certainly be looking to make themselves six-time champs.