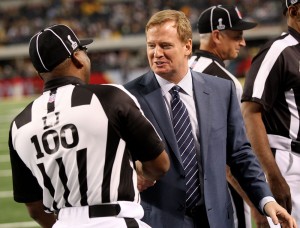 Every year a new batch of young National Football League prospects enter the NFL draft in the hopes of playing the game they love the next year on a national stage. After these 230 some-odd are drafted, they are invited to the NFL rookie symposium, which is basically a "new player orientation." And, just like every year prior, this routine happened as usual.
"But wait," you say, "Why is the NFL operating like there's nothing wrong? I though there was no NFL?" Well, that's where it gets confusing. Every year the NFL runs that rookie symposium. This year the symposium was run by the NFL Players Association — or what was formerly known as the NFLPA, now disbanded until there is an NFL to have a players association — and its president, DeMaurice Smith.
As confusing as all of that is, the bottom line is that the league is still in a lockout, which means that for the foreseeable future, there is still no NFL. What makes this year's rookie symposium different, other than those who put it together, is that not all of the rookies drafted showed up. Also, none of these rookies are actually under contract with an NFL team. That's right, all of these former college stars are actually unemployed athletes and the only thing keeping their heads up is the fact that there is some semblance of an NFL franchise with the rights to contract negotiations once the lockout is over.
But, who knows — this week there were meetings in Minnesota with all of the parties involved, and things may be looking up. According to those involved in negotiations, the point of this week's meetings is to set in stone what the two parties can agree on, and make a list to tackle next week of what the two parties cannot agree on.
As for the NFL schedule, the clock is ticking on the league and its players association to get a deal done. If the two cannot get a deal done by the end of next week, we could actually be looking at some cancelations, starting with the preseason, as a few teams are scheduled for training camp in just about three weeks.
Of course, just when everything is just starting to look up, the most recent turn in the process of negotiations has not been as positive as the public is led to believe. And who's to blame for this? The owners.
These billionaires in charge of NFL's 32 franchises smell an opportunity to make more money now that there is some progress. They can sense that the players know there is progress in the air and are antsy to get a deal done, so details have surfaced that the owners are now nitpicking the intricacies of the proposed deal in order to make a little more cash on top of what is already agreed upon.
Right now the responsibility to get the owners back on track and working progressively towards a new deal lies squarely on the shoulders of Smith and NFL commissioner Roger Goodell. This task will prove to be a testament to the newly formed friendship that the two head honchoes of the NFL labor negotiations have recently formed and decided to take to the public.
Although it seems to be a daunting task, once the owners are convinced to stop with the petty rumblings for a dollar here or a dollar there — also, it's not all 32 owners causing issues, but just a few unnamed ones, although I'm sure we all have our own guesses as to who it could be — we should be well on our way to a full 2011-12 NFL season.
On a side note, the NFL better get all of this done, because fantasy football magazine publishers around the country are suffering mightily, as many of them have chosen not to publish their magazines this year due to a shortened fantasy draft preparation time caused by the extended negotiations period.
Who knows, maybe for our next issue the NFL will be back and I'll get a chance to pay my respects to these fallen magazine publishers with some fantasy rankings and predictions of my own.
But, first things first, Goodell and Smith need to get their butts in gear and get a deal done, because what is America without its actual pastime, football?