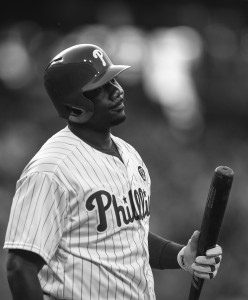 Major League Baseball shut down for a short four-day break, July 11 through July 15, to enjoy the 2014 All-Star Game festivities. This year's games had a similar feel to last year's, with the Home Run Derby winner staying the same and another ceremonial introduction for a future Hall of Famer.
Something different this year, however, was the appearance of the Phillies' Chase Utley, who played extremely well in the All-Star Game. Unfortunately, Utley must return to the Phillies where the losses outnumber the wins. The All-Star break hasn't changed anything for the Phils: they are still struggling to stay above the .400 mark. The only good news about the Phillies is the apparent willingness to let go and trade some older, more seasoned players.
Before getting into the struggling Phils, let's look back at a fun All-Star weekend. In the Home Run Derby, the Oakland Athletics' Yoenis Cespedes beat the Cincinnati Reds' Todd Frazier in the final round to win back-to-back Home Run Derby trophies, the first player to do so since Ken Griffey, Jr., in 1998-1999.
Moving on to the actual All-Star game; it was New York Yankee legend Derek Jeter's final All-Star appearance and what an appearance it was. From the pregame ceremonies to the actual game, Jeter had a very memorable All-Star finale. Some say he took up too much of the festivi-ties; others say it was just right. But we are saying goodbye to one of the greatest shortstops to ever play the game; Jeter deserved everything he received.
Jeter's performance in the game was on par with what he's done in his career — he singled and doubled in his two at-bats. The double came with some controversy, as it looked like Adam Wainwright, the National League pitcher, pitched Jeter almost as if he was trying to give him a hit. Regardless, Jeter did what he often does: he stepped up in front of a crowd expecting a show.
The All-Star Game for Phillies fans was just as exciting as it was for others. Second baseman Chase Utley did the Phillies proud by going 1-for-1 in the game and having an overall good showing in his short outing. It's unfortunate there was only one Phillies player in the game, but it was nice for fans that Utley could contribute and wear the Philly uniform proudly.
As we move on to talking Phillies baseball, it might get a bit depressing. It's the same old song and dance, just with maybe a few changes on the horizon.
It is obvious the Phillies are out of contention this year and most likely for years to come, so the question remains, why isn't Ruben Amaro, Jr., selling players yet?
Well, it seems like he is beginning the fire sale. There have been multiple rumors about A.J. Burnett retuning to the Pittsburgh Pirates in a trade. This would benefit both sides because the Pirates would be gaining a pitcher who succeeded with them for a few years, and the Phillies would be gaining cap space and removing age from the roster. Both would be positive because cap space allows the Phillies to sign young talent and removing age is important because the younger you are, the more potential there is.
There have also been recent reports of the departure of Ryan Howard. At one time this was al-most unfathomable to fans because it still feels like Amaro seems focused on keeping the core guys around forever.
Howard had a great four to five years with the club, hitting his way to different records. Unfortu-nately for Howard he has had to deal with his fair share of injuries and has never been quite the same player since 2010-2011. Recently, he has slowed down his production, almost to a point that has Phillies fans rejoicing at the rumor of his departure.
Howard may still have some decent years left in the tank, but at 34 years old he is no longer a player the Phillies need on the roster, especially at his price tag. The reports are that the Phillies could eat his money and simply release him or trade him away. Either way, even if the Phillies need to eat money, it would still be a good move because it would free up roster space to allow young gun Darin Ruf and the like to take over full time and give fans a chance to see what the future looks like.
Other rumors circling around are ones that have been around for some time. Cole Hamels has told the Phillies which teams he would allow a trade to, which could be some indication that the newly paid Hamels could also be leaving. This, however, is not as likely as Cliff Lee being trad-ed away, which is another rumor that has been around for some time now. At this point in the season everyone is available to be traded, and most likely, there are not many players who would be traded for great or even good prospects. Trades would just allow the team to get rid of older players and bring in some prospects to fill in spots in the farm system.
Fans can only hope that in the coming years, the Phillies organization drafts well and builds cor-rectly. This way, the fans don't have to endure too many years of failure. It is going to take some time, but in order to see more Phillies uniforms in future All-Star games we have to endure some pain now.