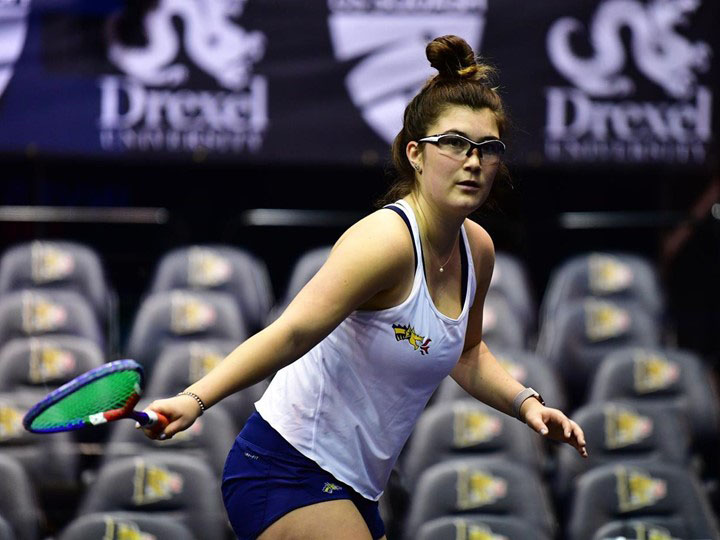 Before heading out on winter break, the Drexel University's men's and women's squash teams played against one more opponent Dec. 7: Trinity College. They looked to bounce back from prior losses to Princeton University Dec. 6.
The women's team had the better of the matches as sophomores Ona Prokes and Emma MacGillivray and senior Apoorva Addepalli all got wins for the Dragons. Addepalli and MacGillivray both won in straight sets, 11-3, 11-2, 11-0 and 11-3, 11-4, 11-1 respectively. Prokes took her match to five sets, winning the first and third sets and sealing the victory with a fifth set win. Senior Fiona Power also took her match into the fifth set, but could not come out with a win as she lost to Amina Taher 11-6, 8-11, 11-6, 4-11, 11-5. The rest of the team did not have as much success as the Dragons fell to Trinity, 6-3.
The men's team had an even worse time against Trinity, as freshman Filip Krueger had the only win for Drexel. He started off strong, winning the first two sets, but lost tremendously in the third set. However, he was able to bounce back and win in four sets, 12-10, 11-9, 1-11, 11-5. Sophomore Dylan Kachur was the closest to winning, as he took his match to the fifth set. After winning the first set, he lost the next two. He hung on for one more set after, but eventually lost in the fifth set to Thoboki Mohohlo 10-12, 13-11, 11-5, 10-12, 11-7. None of the other Dragons could come up with a win, as they lost 8-1.
The men's team will travel to Rochester, New York, to compete against the University of Rochester Jan. 12 before joining the women to travel to Ithaca, New York, to face off against Cornell University Jan. 18 and Western University Jan. 19.