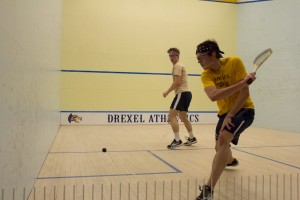 The Drexel University men's and women's squash teams completed their regular season with a strong finale.
The Dragons faced the Dickinson College Red Devils Feb. 6 at home. Both teams swept the Red Devils on senior night, winning 9-0. In an impressive showing by the Dragons, every player swept their opponent in three games.
Drexel had their final two competitions in Washington Feb. 7 against the George Washington University Colonials and the University of Virginia Cavaliers. The men defeated both teams going 2-0 on the day, while the women split their matches, 1-1. The men finish the 2014-2015 regular season with a winning record of 9-8 and the women finish with an 8-10 record.
The Drexel men defeated the Colonials 5-4. Wins came from Luke Willemse, Cillian Dunne, Mark Kauf, Nat Fry and Joey Gingold. Willemse battled it out in the second spot to secure a victory over opponent Oisin Logan in five games. Dunne and Kauf defeated their opponents in four games in the five and six spots. Fry and Gingold sealed the win for the Dragons, sweeping their opponents in three games in the seven and nine spots.
The women fell to George Washington 6-3. Elisa Money, Laura Rahauser and Kaitlyn Money got the wins for the Dragons in the four, five and six spots. Elisa Money swept her opponent Colonial Mehak Chawla in three games, while Rahauser and Kaitlyn Money defeated their opponents in four games.
During the second contest of the day, Drexel swept Virginia. Both teams defeated the Cavaliers 9-0, finishing their regular season in exciting fashion.
For the men and the women, eight of the nine wins came in three game sweeps.
The men and women return to action in the team championships. The women's contest will take place Feb. 13-15 and the men's will take place Feb. 20-22, both in Hartford, Connecticut.