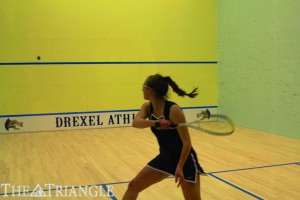 The Drexel women's squash team had their first home match in program history as they welcomed Haverford to the Kline and Specter Squash Center at the DAC.
If you were to look at the schedule of the men's and women's squash teams for the 2011-12 season, you would quickly notice something slightly unorthodox. Every single match that these two teams have played to this point has been away or at a neutral site. Yet their overall records — the men at 6-8 and the women at 0-11 — should not be seen as a reflection of their schedule or of their overall capabilities. They have performed admirably in their first season of Division I play, and some bright spots have shown. Such bright spots continued to be on display during their showing at the Maine Round Robin tournament Jan. 27-28 and in their first home match against Haverford College Feb. 2.
In the Maine Round Robin, the men's side went 1-3, defeating the Massachusetts Institute of Technology 5-4 while losing to Bowdoin College 1-8, Colby College 2-7 and Bates College 1-8. The best player of the weekend for the men was undoubtedly sophomore Justin Singh, who won three out of his four matches, beating the top players for Bowdoin, Colby and MIT, respectively Jan. 27. In addition, he won Drexel's only point against Bates in their 1-8 loss the following day. Freshman Sebastian Dangond Gala, junior Nakul Jain, senior Robert Steidle, sophomore Kevin Sacherman and freshman Nick DiDonato all had wins on the weekend as well.
While the women did not win any matches, losing to Bates, Bowdoin, Colby, Wellesley College, Tufts University and Bates, they did continue to take strides as a team.
Despite winning only one game total, they played hard and never made it easy on any of their opponents.
Yet the brightest spot for the first-ever season for Drexel men's and women's squash came Feb. 2 as they hosted their first ever home matches in the brand new Kline & Specter Squash Courts inside the Daskalakis Athletic Center. The new facility has seven courts in total — five competitive and two recreational — a seating area for spectators and a team locker room.
Speaking after the matches — the men won 8-1 and the women lost 6-3 — head coach John White lauded the new facility as being the perfect necessity for Drexel squash in the present and future.
"It worked well," he said. "It allows the crowd to watch either downstairs or upstairs. We have seven courts in all in addition to a team room. This facility is everything this team needs. It's brought this team together, and it fits the purpose for everything we are trying to do."
White also expressed his approval at the men's efforts, seeing that Haverford had most of their top players for this match, unlike the last time these two teams played earlier in the season.
"Last we played they didn't have four out their top six players," White said. "This time the guys had to step up, which they did. All of them, knowing that Haverford was stronger, played well. There was pressure knowing that this was their first home match, but they all stood up."
A very noticeable thing  if they watch this first home match would be the camaraderie and exceptional team spirit shown by all the players, both men and women.
Such is a testament to the sense of togetherness and belief that runs through the teams. During every close match, those that weren't playing at the time would go to the court where the aforementioned close match was taking place, loudly and enthusiastically cheering on their fellow teammate. White said that such support is very important to the team's success.
"It's very important," he said. "That was one of the things that me and assistant Sean Wilkinson had to talk to them about. Seeing our guys and girls together makes the player playing have a boost. It makes them give that extra effort. That camaraderie is a very important aspect of the team sport. It's a great feeling as coach to see that happen with your team."
This first season for both teams has been a long one, as the men and women have been competing since late October. White, along with the rest of his players, is well aware of that.
"We were at the Maine Round Robin tournament over the week, and that was a very long trip, just with going there and competing and coming back," White said. "Knowing that, they managed to stick through it. There is a lot of pressure internally, but as long as they look out for themselves, they'll be fine. Brown and Swarthmore will be good tests for both teams, testing their effort and match conditioning. I expect them all to give 100 percent."