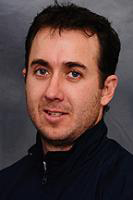 The Drexel University men's and women's club squash programs have competed on the intercollegiate level for only two years. However, squash has been bubbling about Drexel's campus for much longer than that.
For the last 10 years at this University, athletic director Eric Zillmer has been working tirelessly to increase the awareness of squash throughout the Drexel community. It seems as though his hard work and efforts have paid off, as the athletic department announced April 25 that the men's and women's squash programs would be added to Drexel's varsity sports.
It all started when Zillmer and the rest of the department welcomed an organization called SquashSmarts to campus about 10 years ago. Using Drexel as its channel, the organization gives "under-served, urban youth" middle school students from Philadelphia a great shot at receiving an education. It pairs up the academic values with athletic achievement in squash. This program, although not affiliated with the University, has helped to spread squash awareness around campus.
"We all of a sudden had intramurals, and intramurals had 50-60 players," Zillmer said. "And then we had a club team that organized themselves, men and women, and they started becoming better, and they started competing against other schools and they competed nationally.
"So this little space we had downstairs with these six old, North American courts, was transformed into this squash culture where people were waiting to get on the courts and out of that, the idea for having varsity squash was percolating."
The decision to promote squash to a varsity sport did not come easily. In order to pick a sport to compete at a Division I level, the sport has to be able to fit in the school's culture.
"In varsity sports, you have to be very niche-y; you have to make choices, especially for a school like Drexel University — we can't be everything to everybody — so sports like lacrosse, crew, field hockey — they have a regional basis, yet an international and a national impact — are the sports that are good for us, that we can compete in, that we want to compete in," Zillmer said.
He continued to describe that squash not only fits into Drexel's athletic culture, but Philadelphia's as a whole. Zillmer described an intricate system of squash clubs located through the Philadelphia area such as Marion, Philadelphia Cricket and Philadelphia Racket Club to others in Germantown and Bala Cynwyd.
Once Zillmer and his department decided they wanted to promote the squash program to the varsity level, it wasn't a matter of why, but when.
"What we really needed was enough support to push it through and that came with President [John] Fry who believes — if you've heard his inauguration address — in innovation, in entrepreneurship, in creating opportunities and this is one of the things that he supported, but we were ready to do it," Zillmer said.
Many people believed that Fry, a very public figure in the world of United States squash, must have had something to do with bringing a Division I squash program to Drexel, not to mention hiring a head coach from his previous college: Franklin and Marshall College.
Zilmer was quick to respond with the fact that Drexel was promoting squash before Fry became president. Now that he is president, although a huge squash aficionado, Fry is no more involved than any other president would be.
"When we started varsity squash, President Fry acted as a president," Zillmer said. "He said, 'Eric, create a budget for me,' and I worked with my boss, Senior Vice President Jim Tucker, to create a budget and figure out what it would take to have [squash] as a level that it would compete on, and at no point did [Fry] tell me what to do."
As mentioned earlier, Drexel did hire former Franklin and Marshall head squash coach John White — who also happens to be the former number one squash player in the world. The hiring process did not come as easily as it would seem when the end result is one of the best squash minds this world have ever seen.
"When we opened up the [head coach] search, I created a job search and I had over 32 applications — it's a very desirable job, Drexel is an up-and-coming school," Zillmer said. "People look at [Drexel athletics] from the outside as there's something happening there, something good. So we had a lot of applications, really good people. I interviewed six people and after it was all said and done I went back to President Fry and said, 'My number one choice, I've got to tell you, [is] John White.'"
Zillmer said he had the chance to play squash against White before officially offering him the position. He was overwhelmed with White's skills in the game, as well as his charisma, teaching ability and overall personality that seemed as though it would fit in perfectly with the rest of the athletic department.
"That [White] was from [Franklin and Marshall] was really in a way secondary," Zillmer said. "He applied, he obviously wants to come; [White and Fry] know each other, but as athletic director it would have been difficult to tell me who to hire. So I was given basically the opportunity to hire a squash coach, but the decision was with the squash committee."
When asked why he thought White chose to leave a blooming program like that of Franklin and Marshall — the men's program was ranked as high as eighth in the nation and women were as high as 17th — to a program such as Drexel, which is barely beginning the budding process, Zillmer cited the close relationships fostered within Drexel's athletic department.
"You're trying to put your best foot forward, and what we do, I believe, [White] liked what he saw," Zillmer said. "I think what we do well at Drexel athletics is that we're like a family, we take care of each other, people care what everyone else does and we have a Division I infrastructure, so we have strength and condition support, sports medicine support, sports information support, we have academic support and the fact that we make [sports] a priority.
"We only have, with squash, 18 teams and we still focus on those teams, so we're going to have enough attention," Zillmer continued.
As for the impact a person like White — who has hit the fastest ball in squash ever at over 172 miles per hour — will have on the program, Zillmer used the word "unbelievable."
"[White] is a former number one player in the world; think about that, the best of the best," Zillmer said. "He still plays at an extremely high level; he's charismatic and people are going to be drawn to him."
On top of all this commotion over squash, Drexel has also made plans to host the U.S. Squash Open in 2011, as well as several years following.
"It's all part of the plan to raise squash's profile," Zillmer said. "I play squash — I'm not very good at it, I'm a converted tennis player — but I understand the game, and I've researched it a little bit and I like it. There's no question our president loves the game, and he's a very good squash player and he's on the court as he is in life — he's very strategic, and very elegant and efficient. He's on the board of U.S. Squash and he said to me, 'Eric, what would it take to stage an event like this?' I felt really comfortable with it because we hosted the U.S. Olympic trials in table tennis in 2008."
Zillmer said that Drexel plans to build a glass court in the middle of the arena, adding, "It's going to be awesome."
For this tournament, the best players in the world — the top 32 males and 16 women — will come to Drexel and compete in the Drexel Athletic Center for $175,000 in prize money.
In order to promote a sport to the varsity level, there needs to be a successful club program, and Drexel has that. Zillmer is now figuring out what to do about the players on the current team to make sure they have a fair chance to compete at a high collegiate level.
"I think [promoting a club sport to a varsity sport] is complicated; that's why we need a good leader," he said. "There's going to be some transition issues, so how do you do it? Are you going to have some tryouts? The next few years will be interesting."
Zillmer said that all of the current club members will have the opportunity to play at the varsity level — but not only that, if there remains enough interest on campus, the club will remain as well.
In addition, the University plans to prepare for the oncoming swarm of squash by building and redoing the courts located in the downstairs of the DAC so the team can compete against some of the top programs in the nation — such as the Ivy League teams, the New England Small College teams and even the Centennial League.