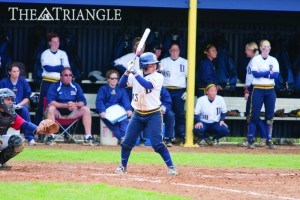 On March 27, the team swept both games against Bucknell University on the road. Both games were decided by the same score: 3-1.
In Game 1, a three-run third inning was enough for Drexel. The highlight of the inning was a two-run double by Jenn Reading. Mary Horton's error opened the door for the big inning, and the Dragons took advantage with three unearned runs. Tara Konopka earned the victory for Drexel with a complete-game, five-hit effort.
Game 2 was very similar in not just the score but also the way in which Drexel scored. Again, Reading provided both the game-tying and go-ahead RBI on one swing, driving in two with another third-inning double. That would again be enough for Drexel's pitching staff. Rose Portiolli picked up the victory, pitching in relief of Shelby Taylor.
Strong pitching, solid defense and situational hitting keyed the doubleheader sweep, according to head coach Miranda Ervin.
"I think the sweep of Bucknell was more about being able to score when we needed to, and I think what stood out most was we played solid defense," she said. "We put the ball in play when we had to and had a couple of key hits that we just really haven't been getting."
Ervin was especially impressed by the command of Konopka, Taylor and Portiolli.
"They got ahead and didn't walk people," she said. "With that, I thought they controlled the entire game. I never felt like Bucknell had a threat offensively to get back in the game."
A few days later, the Dragons regressed to their recent struggles against the Colonial Athletic Association. The team dropped three games in two days to James Madison University, being swept in a March 29 doubleheader and losing the March 30 series finale.
In Friday's Game 1, Drexel was shut out by freshman Jailyn Ford, who yielded only one base hit in the Dukes' 8-0 victory. Konopka was hit hard, surrendering five runs in five innings. The eight-run rule allowed the game to be called after five-plus innings.
Game 2 was similar to Game 1, only worse, as Drexel was again beaten badly, 11-1. It was Ford beating the Dragons again, but this time with her bat. She slugged a grand slam, which actually was a walk-off, and put the eight-run rule in action again. Portiolli took the loss after allowing six runs to score in three innings.
Things did not get better in Saturday's finale, and Drexel once again lost 11-1. Ford picked up her second victory on the mound in two days, running her record to 12-1. Taylor allowed 11 runs in four innings, including a demoralizing five-run first inning to the Dukes.
"You get down early in the game, and then you struggle to come back," Ervin said. "They do have a good pitcher in Ford, but it was one of those things we could not get down early in the game and then get back in it."
As for the offense, it was not just Ford's dominance. Ervin saw opportunity for the Dragons to produce, but it just did not happen.
"I thought she was good, but I don't think she was so much better than us that we could not score runs," she said.
The loss marked Drexel's 10th straight CAA defeat, dating back to last season. They have dropped 14 of their last 15 conference games.
They will, however, get a chance to snap the drought and pick up a win against a fellow CAA opponent when they host Hofstra University for three games this weekend. Beginning with a doubleheader Saturday, April 6, and another game the next day, they will have their hands full with the Pride, who sport an 18-9 record.
Ervin is looking for a competitive weekend from her squad.
"I want to just see a team that competes, a team that believes they can win, and then see what happens," she said.
Ervin also said she hopes to see a nice turnout of support from Dragons fans. She noted that Drexel has an opportunity to turn the season around and make a postseason push.
"It's a big home series, so they should come out and support us," she said.