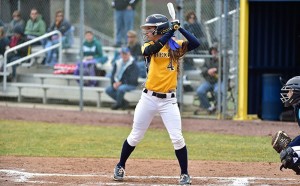 Drexel University softball improved to a 3-5 record on the season after a convincing victory over Gardner-Webb University March 7-8. Drexel took the weekend series 2-1 over Gardner-Webb with back-to-back wins, after being off for nearly a month. The Dragons got off to a hot start during the March 8 contest, scoring three runs in the top of the second inning.
Leticia Matsuoka and Gabriela Kuroda had big games, combining for five hits to get the offense going. Taylor Lee took the mound and pitched a masterful game, allowing just five hits in a complete game effort. Lee also struck out six batters.
Things got a bit dicey in the bottom of fourth inning, when the Runnin' Bulldogs put up two runs. The game hung in the balance, but Lee remained extremely poised and finished the game without letting up another run. Eventually, the hard-hitting Matsuoka sealed the game and the weekend series with a two-run blast that scored pinch runner Sharon Zamora.
Drexel is coming off a tough season, so back-to-back wins early on is a great confidence booster for the team. As a point of reference, Matsuoka was the only player on the team who batted over .300 last year. This season five players are batting over .333, so hopefully the Dragons can keep the offense rolling as they have put up 16 runs over their last two games. In addition, the team gave up only four combined runs to two very good squads in the University of Maryland and Michigan State University earlier this season. There are many different signs that say this season will be much better for the Drexel softball team.
The Dragons returned eight starters from last years' team and those players have shown tremendous leadership thus far. In addition, the Dragons have three good wins already and have yet to play a home game.
There's no doubt that being home will help the team get into a groove. Unfortunately, the squad won't be home until March 21 when they take on the University of Delaware in the opener of Colonial Athletic Association competition. Delaware finished fifth in the conference last year, but is off to a pretty good start this season at a record of 9-6.
The Dragons take the field again Friday, March 13 when they begin their campaign in the North Carolina AT&T Tournament. Drexel then plays five of their next six at home, and finally get a break from their rigorous travel schedule.