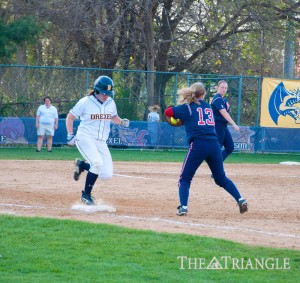 Coming off the last series sweep of conference rival University of North Carolina Wilmington, the Drexel Softball team looked to continue their recent success against Colonial Athletic Association opponents with their series against George Mason (14-23, 4-10 CAA).
The Dragons failed to do so, coming away with only one of a possible three wins in the weekend series. In game two, junior Hillary Allen started her 22nd game of the year, and recorded a complete game win to improve her record to 9-10. The Dragons have five games left in the season, four of which are against CAA schools.
The Dragons (13-24, 5-10 CAA) sent ace Allen to the mound to start game one. Both teams scored a run early, and the game remained tied in the fifth inning. Allen grounded into a fielder's choice, sending senior Laura Stagliano home and giving Drexel the lead. In the bottom of the fifth, Mason took advantage of Allen's lack of control to score two runs and take the 3-2 lead. Mason would add on to their lead scoring three more runs, none of them being earned.
Despite the loss, Allen threw a complete game, only giving up six hits, and three earned runs.
In game two, Allen got the start once again. The game remained scoreless until the fourth inning when the Dragons scored a pair of runs, capped off by Virginia native junior Devon Metcalf's runs batted in triple. Metcalf felt right at home as she tripled twice and drove in a run. Mason's only run came in the sixth inning, and the game ended 2-1. Allen had another strong game going the distance and allowing no earned runs.
Freshman Shelby Taylor got the start in the rubber game of the series. The Dragons cruised through the first six innings. Drexel's leading run producer, junior Paige Collings, started things off by hitting a two run homer in the first inning. Giving the rookie some run support early helped because she dominated through six and a third innings. She only gave up five hits in five innings.
Taylor couldn't close it out though, as she seemed to lose her control in the bottom of the sixth. She walked, gave up a single up the middle and hit a batter to load the bases with one out. She struck out the next batter and looked like she was going to escape the inning unscathed. Mason's Kaila Conlon hit Taylor's third pitch out of the park to end the game with a grand slam 4-3. Taylor was one out away from pitching her first complete game shutout.
Collings has started to crack the CAA leader boards. She currently ranked second in slugging percentage with .620, and tied for third in home runs with eight. Stagliano also leads the CAA in steals with 22.
Drexel will start a series April 30 at home against rival Delaware.