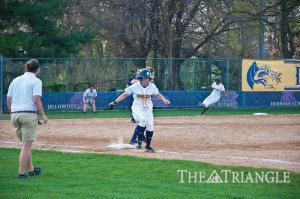 Four players from the Drexel softball team received recognition from the Colonial Athletic Association for their performance this season.
Juniors Paige Collings and Hillary Allen were both named First Team All-CAA. Senior Rachel Campbell was named to the Second Team All-CAA and freshman Comfort Ahonkhai was named to the CAA All-Rookie team. This is the third time Drexel has had three players named to the All-CAA teams since its inclusion in the league in 2002.
Collings had a monster year, leading the Dragons in batting average (.333), home runs (nine), slugging percentage (.612) and on-base percentage (.409). Her nine home runs were a personal best, breaking last year's record of eight. She placed second in the league in slugging, third in RBIs and fourth in home runs.
"I am very honored to be placed in the same category as the very talented players on the All-CAA team," Collings said after being selected to her third All-CAA first team. "Even though our season didn't end as well as we had hoped, I think that having four players named to the All-CAA team is a very positive step forward for Drexel Softball."
Collings is just five home runs away from tying the school record, and 21 RBIs away from reaching 100 RBIs for her career.
Allen also received first team honors for the first time in her career as a utility player and pitcher. In addition to being the Dragons' ace, she split time as the designated hitter. She had a career year at the plate, batting .309 in 97 plate appearances with four home runs and 21 RBIs. On the mound, she had an 11-11 record with a 2.93 earned run average. She pitched a career-high 160 innings and struck out 92 batters, also a career-high.
Campbell, named to the second team, caught fire during the latter half of the season.
"It means so much to me to be named to the team," Campbell said of being named to her first all-conference team in her final season with the Dragons. "I have worked so hard over the years and never imagined that I would ever receive an award like this, but it goes to show that anything is possible if you just work hard. It is definitely a great way to go out as a senior and is a great honor to me to be named to the team along with my some of my other teammates."
She finished the season with 40 hits, three home runs, 22 RBIs, 25 runs scored and seven stolen bases — all career highs. She also finished the year batting .305. She shined in CAA play when she hit .338 while leading the team with 22 hits and 11 runs scored against conference opponents.
Ahonkhai led all Drexel rookies in batting, runs scored and hits. Her strongest asset though, was her speed. She was a perfect nine-for-nine when stealing a base. Her defense was also stellar as she led the Dragons in outfield assists.
As for the team, the Dragons closed out their season with a series against rival James Madison University. Allen got the Game 1 win against JMU. The Dragons were down 3-2 in the sixth inning when they exploded for a seven run inning to earn the 9-3 win.
In Game 2, the Dragons took the early 2-0 lead but couldn't hold on as they lost 9-3. Senior Shyann Beach got the start but only faced two batters before she was pulled in favor of freshman Shelby Taylor. Taylor went on to allow six runs in two innings of work. Allen made a relief appearance, but didn't do much relieving. She stopped the bleeding only slightly as she gave up three runs through four innings.
Drexel couldn't get the series win in their last game of the season as they fell to JMU 4-2. Allen took the loss, allowing four earned runs on eight hits. Down 3-1 in the sixth inning, the Dragons tried to start a rally when Allen drew a lead off walk and eventually scored to close the margin to one run. JMU restored their two-run lead to close out the series with a win.
The Dragons finished the season 15-28 overall and 7-14 against CAA opponents. They will not move on to the CAA championships. This marks the end of Drexel's second straight losing season.