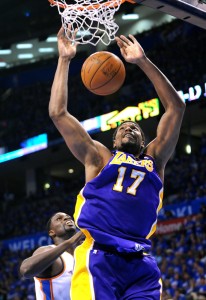 After several years of mediocrity and stagnancy, the Philadelphia 76ers have entered a new era. As part of a four-team blockbuster trade Aug. 10, the Sixers acquired star center Andrew Bynum from the Los Angeles Lakers.
Bynum, a two-time NBA champion and one-time all-star, had a career season in 2012, averaging 18.7 points and 11.8 rebounds per game. The 24-year-old from Plainsboro, N.J., was brought to Philadelphia in the same trade that sent Andre Iguodala to the Denver Nuggets.
The Sixers also traded away their 2012 first-round pick, forward Maurice Harkless; their 2011 first-round pick, center Nikola Vucevic; and a future first-rounder. Additionally, Philadelphia further bolstered its lineup by acquiring Jason Richardson, a veteran guard and forward, from the Orlando Magic in the trade.
With the acquisition of Bynum, Philadelphia finally has its first true franchise player since Allen Iverson in the early 2000s. Although Bynum only has a single year remaining on his current contract and will be a free agent at the end of the 2012-13 season, it is widely believed that the Sixers are positioned financially and systematically to sign him to a long-term deal.
The 7-foot, 285-pound center is a dominant presence in the frontcourt and will immediately make the Sixers one of the strongest teams in the Eastern Conference. Prior to the trade, the Sixers were a strong defensive team with a core of young and talented guards, but they lacked significant offensive firepower.
With Bynum now patrolling the paint on defense and drawing much-deserved attention on the offensive end, Philadelphia is expected to improve in all areas of the game.
The Sixers' July acquisitions of offensively-talented players Nick Young and Dorell Wright now seem much more logical. As Bynum routinely draws double-teams down low, space will open up on the outside for all of Philadelphia's perimeter players.
While Bynum will certainly have a major effect on the power distribution across the NBA, he was not the focal point of the four-team trade. Instead, it was another center stealing the spotlight — Dwight Howard was traded from the Orlando Magic to the Lakers, marking an end to the saga surrounding the superstar center and his former team.
This trade also effectively gave the Lakers one of the NBA's most star-studded lineups. Los Angeles acquired star point guard Steve Nash from the Phoenix Suns in July and already boasts a roster that includes Olympians Kobe Bryant and Pau Gasol as well as Metta World Peace, among others. The Orlando Magic received a plethora of draft picks in the trade.
Needless to say, all eyes will be glued to the basketball courts this season as some of the top players in the business compete for the ultimate title.