The Drexel women's basketball team is likely going to need major contributions from several, if not all, members of their roster to be successful — that much is known. But who is the biggest key to the upcoming basketball season?
An easy place to begin that search is at the top of the roster with the seniors. The Dragons will have four seniors running the Daskalakis Athletic Center court for the final time this season: Tyler Hale, Marisa Crane, Ayana Lee and Kamile Nacickaite. It's a quartet that has seen only winning seasons and playoff appearances at their time at Drexel. Anything less to them is foreign. Included in their tenure, during the group's freshman season, is a Colonial Athletic Association Championship, of course followed by an NCAA Tournament appearance.
For obvious reasons, such as their experience, growth and proven talent, the team will look to their seniors as leaders. Drexel women's Head Coach Denise Dillon is doing exactly that with her seniors.
"The biggest thing  we're looking for in this senior class is leadership," Dillon said.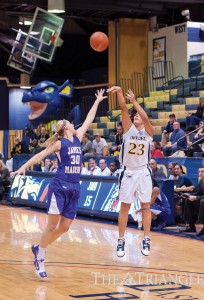 Dillon has been with the University since 2001 and as head coach since 2003, so she's seen this senior class's tenure, along with the entire tenure of other senior classes.
While Dillon and her roster will look to the quartet, there is one senior who will be having even more eyes looking down on her for this 2011-12 season. Among them are people outside of Drexel and part of bigger organizations — such as the entire CAA.
On Oct. 18, Drexel senior Kamile Nacickaite was named as a first-team selection to the All-CAA preseason team. The selection is confirmation that there are extra eyes on this particular senior. But there is more to it; the extra eyes are there as part of an expectation.
The preseason selections to the team are not based on any play for this season, as it has not begun yet. Rather, they are predictions of the performance for players throughout the conference. In other words, these players are expected to have big seasons and be keys to their teams. Nacickaite is being viewed as a key to the Dragons' women's basketball season.
So what makes the senior guard the key to the season? This simply is her team right now. She is the best player. The Siauliai, Lithuania native became the best player on the team last season and has only gotten better. Not only that, but she has a trend.
Nacickaite followed the path of progression in an almost perfect linear fashion. She started her freshman season as the fourth-best scorer on the team, averaging 5.7 points per game. The following year she bumped up to the position of second-highest scorer at 11.6 points per game. She reached the top of the ladder last year, leading the team with a solid points-per-game average of 17.6.
Her scoring and shooting statistics are not the only things that have grown, though. Nacickaite has grown to become a more complete player, physically and mentally. This is what makes her the key. This season is her season to show and prove herself as a complete basketball player and not a one-dimensional player.
When athletes come to schools with athletic plans, they usually have one, maybe two, strengths that got them recruited. It's the time they spend progressing and moving up the roster that helps them create an all-around game and become complete players. It's what the senior season is all about: unfolding that all-around game. That is the case for Nacickaite this season and during her college career.
"What we recognized immediately was her shooting ability; she had a nice shot," Dillon said. "But what I liked and what I saw in her develop each and every year was a different part of her game. Again, she had a nice shot, but we wanted to develop areas like her ball-handling, her defense, post moves. So we've seen her grow into an all-around good player instead of just being a shooter."
And so Nacickaite moved up among the team leaders in a number of other categories, as well. She finished the 2010-11 season as the Dragons' leader in rebounds, blocks, steals and three-point shooting percentage, in addition to just scoring. Playing in the backcourt as a guard, leading the team in both rebounds and blocks is quite an accomplishment. Not to mention an indication of hustle play on the court, a good item to put on display as a senior leader.
Already being the leader in a number of statistical categories it's clear she already tapped into that all-around game, but there is still more. She still had time to experience even more growth and progression since then. It's those developments that make the senior season that all-important one. It's their last impression, so they have big incentive to make it a long-lasting positive one. This is their chance to show their all around game they have been able to create through the previous three years with their play and help from the coaching staff.
"I think that's why she's being recognized by the CAA," Dillon said.
With eyes set to be on her from the conference, her teammates and the Drexel community, Nacickaite said she has high expectations. She is still growing and progressing as a player to be even better, maybe even becoming more of a key.
"I'm still working on extra things that can be better in my game," Nacickaite said.
Still, she recognizes the opportunity and sees it as time to take advantage of her final season.
"This is my last year, got to do it, got to win the championship," she declared.
She, along with the other members of her senior class, will look to make it a perfect four-for-four in winning seasons and playoff appearances at Drexel.
"It's not going to be easy. We have to work hard and work as a team and work on the obstacles," she said. "It's not expected for us to make it to the postseason, so we have to work for extra things."
Drexel is predicted to finish fifth in the CAA this season. Nacickaite has an idea of what it will take to continue the trend of winning seasons at Drexel for her tenure.
"Just win games. Twenty-plus wins will get us there," Nacickaite said.
There's one more trend she'd like to start. In 2007-08 she led her high school team, Regis Jesuit High, reach the championship game as a senior. She'd like to lead her college team to a championship game — and title — as a senior as well.
Nacickaite and the Dragons begin their season Nov. 11 when they host Long Island.
"Nov. 11; be there," Nacickaite explained.
She'll of course be there and be needed as the key to the season, the final one for her game and for the rest of the senior class.