A schedule highlighted by large-name programs such as the University of Pittsburgh and the University of South Carolina tends to belong to a team in one of the larger conferences such as the Big East, the Southeastern Conference or the Atlantic Coast Conference.
Those teams are actually the big-name draws on this year's Drexel women's basketball schedule. Although, Drexel women's head coach Denise Dillon feels that the Colonial Athletic Association is well on its way to being part of that "elite" category.
"We're talking about how great the conference has become across the board — it's not just the top four teams, two teams that are dominating — it's each and every night you're up for a challenge," Dillon said.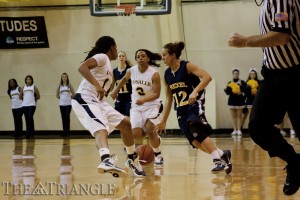 Marisa Crane reaches for the ball against La Salle during the 2010-11 season, but was on the DL shortly after due to an injury.
The Dragons have been invited to the Preseason Women's National Invitational Tournament after three straight seasons of qualifying for postseason play — one National Collegiate Athletic Association Tournament bid and two invitations to the postseason NIT. And not only will they be participating, but they will also be hosting their opening-round game as Long Island University comes to Philadelphia Nov. 11.
"It's great for the program," Dillon said. "It's just showing that we're not about having one successful year, we're really about building something and staying consistent with it. It's a way to open up your season, to be able to play three guaranteed games."
In addition to the WNIT, Dillon also took the liberty of scheduling the previously mentioned Pittsburgh and South Carolina. Drexel will play the Panthers in their first matchup after WNIT play, on the road.
"With Pittsburgh, we try and find … that one team that, if you show up and do your best, you come out with the win, you come out with the upset," she said.
The Gamecocks, on the other hand, will make their way to Philadelphia for a matchup at the DAC right after Christmas, Dec. 28.
"South Carolina [head coach] Dawn Staley, being from Philadelphia, is always looking to play in this area, so we were able to get her team to come up," she said.
Dillon explained that she scheduled these two tough non-conference games because they resemble the playing style of some of the Dragons' top CAA foes, namely James Madison University and Virginia Commonwealth University. She feels her players can take advantage of these matchups and use them as preparation for conference play. She also feels that, by scheduling these two big-name foes, it largely helps the Dragons' RPI come NCAA Tournament time.
Other non-conference opponents for Dillon's squad will be in-town rivals Philadelphia University (season opener), St. Joseph's University, La Salle University and the University of Pennsylvania, as well as two programs from across the bridge in Seton Hall University and Princeton University.
Although those programs are talented, Dillon feels her team's toughest foes reside within the CAA in Delaware and VCU.
"You have to get the girls to understand, 'Hey, we've got to split [the series],'" Dillon said of her team's games against the two programs. "You want to upset them on their court but you've got to take care of the game here at home. We have them twice, which isn't a bad thing, certainly a great challenge facing them, which I think will be picked [as the top two teams] in the conference."
After the Dec. 31 meeting at the DAC with Princeton, Drexel finishes out the season with 17 CAA matchups and nothing else, with its only other CAA game coming Dec. 2 against the University of North Carolina-Wilmington.
"Our goal, and we're ambitious, we feel that we should finish top three, top four in this conference with the girls we have returning," Dillon said. "The depth — this is the deepest team that I've coached since I started here at Drexel. With that, we feel we can be very successful but we know … [the schedule]'s a tough one.
"You're on the road and then back for a couple days and then heading out for another long road trip, so there isn't going to be one easy night. But that's what you want, you want your conference to be the best it can so when March rolls around you get the respect and you get a couple teams into the NCAA tournament and to the NIT as well."
With what looks to be a harsh and challenging schedule, Dillon and her players are in it to win it and plan on being a team that generates buzz come time for the  NCAA Tournament.