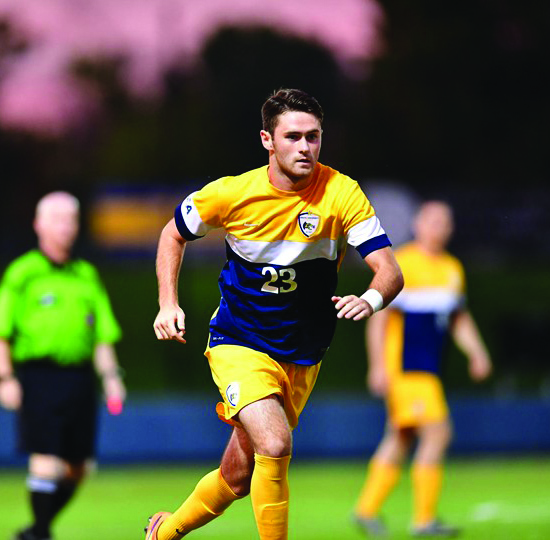 The Drexel University men's soccer team put an end to its scoreless games streak but was unable to end its losing streak after a 4-1 loss on the road against Hofstra University Pride Oct. 12.
Hofstra dominated the game on the offensive end from the first whistle, taking 12 shots before the Dragons could attempt one.
The Pride got on the board first when Meshack Eshun Addy scored off of an assist by a teammate's corner kick in the 29th minute.
In the 43rd minute, the Pride doubled their lead when Adam Savill found the back of the net for his first goal of the season.
Heading into halftime, the Dragons had been out shot by the Pride 13-1 and trailed Hofstra 2-0.
Coming out of halftime, the Dragons had an opportunity to cut the Pride's lead to one when junior Colin McGlynn struck a shot towards Hofstra's goal in the 52nd minute. However, Hofstra's goalkeeper Alex Ashton was able to secure McGlynn's shot for a save.
It did not take long for the Pride to respond to Drexel's efforts. In the 55th minute, Savill scored his second goal of the game off an assist from Nino Alfonso, which pushed Hofstra's lead to 3-0.
A few moments later in the 59th minute, Hofstra was able to put the game out of reach when Luke Brown scored his fifth goal of the season for the Pride.
Despite the game being practically out of hand, the Dragons fought until the final whistle. In the 73rd minute, McGlynn got the Dragons on the board with a goal off an assist from senior Aaron Thompson. The goal snapped a seven game scoreless streak for the Dragons, which dated back to the team's 3-2 overtime victory against Temple University Sept. 13. It was McGlynn's second goal of the season and moved him into a tie with sophomore Ilai Shvika for the team lead.
McGlynn's goal would be the last shot the Dragons were able to get, and the game would ultimately end with the score 4-1 in favor of the Pride. Hofstra outshot the Dragons 22 to 3 for the entire game.
Senior keeper Tyler Afflerbach flashed at moments, notching five saves during the Drexel loss.
The Dragons have dropped seven straight games and their record has fallen to 1-9-2 this season. With Hofstra being a Colonial Athletic Association opponent, Drexel fell to 0-4 in the conference.
Next up for the Dragons is a home game at Vidas field against Elon University Oct. 15. On this date, the team will celebrate Alumni Day.