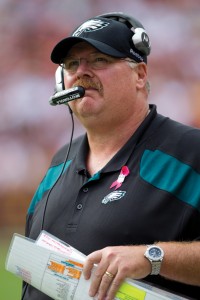 Philadelphia Eagles head coach Andy Reid on the sideline during the second half of their game against the Washington Redskins at FedEx Field
There is more to life than sports and much more to sports than winning. In today's society, it seems as though some individuals ignore this concept. Friends from opposing teams break out in fist fights, players butt heads with franchises to get top-dollar endorsements, and fans sacrifice their morals to fight for their teams.
When your team loses in the Super Bowl or the World Series, it's as if an entire city is in mourning. No one realizes that teams always have another chance and that there's always a next season.
It's only when there is no second chance that our losses are put into perspective. It's at times like this, after the loss of a life, that we need to take a step back and re-evaluate what is really important.
Philadelphia Eagles head coach Andy Reid has devoted his life to football and to the Eagles for 14 seasons. He is a man who has experienced many losses on the field but none that compare to his most recent — the death of his oldest son, 29-year-old Garrett Reid.
After nearly a decade of combating drug addiction, Andy said that Garrett "lost his eight-year battle" on the morning of Aug. 5 while at Eagles training camp.
On his quest to stay clean, Garrett and his wife Tammy were assisting at the camp at Lehigh University.
Garrett's fight against drugs was a long and torturous uphill battle. In 2007 he was arrested for a high-speed car chase after which the police found heroin and more than 200 pills in his car. While serving his time in prison, police caught Garrett trying to smuggle in pills.
He made it no secret that his status as the rich kid from suburban Philadelphia made him a popular drug dealer in the lower-income neighborhoods. He reportedly liked the attention and did not want to relinquish that power.
But it seemed as though his time in prison gave him a different outlook on life. At one of the sentencing hearings, Garrett told the judge that he didn't "want to be that kid who was the son of the head coach of the Eagles, who was spoiled and on drugs and OD'd and just faded into oblivion."
After leaving prison he joined a rehabilitation center in 2008 in hopes of beating his addiction. For the last four years it appeared to the outside observer that Garrett was on the mend. But his internal struggle was another story, one that allegedly caused his life to end far too soon.
In the wake of his death, approximately 900 people gathered Aug. 7 at the Church of Jesus Christ of Latter Day Saints in Broomall, Pa. to celebrate his life.
Love and support showered on the Reid family. Everyone from NFL Commissioner Roger Goodell to opposing teams' coaches to the Eagles players and fans all expressed their sincerest condolences.
At the first Eagles preseason game Aug. 9 against the Pittsburgh Steelers (which the Eagles won 24-23), the entire stadium took a moment of silence for Garrett. The silence was followed by an uproar of applause for Andy and his family, creating an emotional and moving moment that spoke volumes about the nature of sports.
There may be more to life than sports, but for some, sports are their life. Sports have the ability to bring people together who would never normally be friends. It creates an immediate bond that is forever glued together by the team's name on the jersey. It builds a family for many who don't have one of their own.
The players, coaches, and fans who offered condolences to Andy and his nuclear family proved that family isn't defined by blood. Instead, the Reids are part of the Eagles family, the Philadelphia family, the NFL family and the sports family. Having this sense of belonging will not take the pain away, but it will make the grieving journey a little smoother.
Sports alone are not special; it's what sports do for people that make them truly glorious.