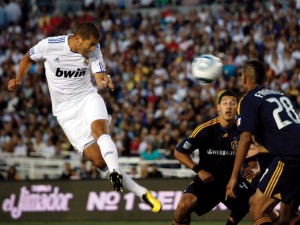 The 59th iteration of the Union of European Football Associations Champions League concluded May 24 with Real Madrid capturing their elusive 10th European crown, La Decima, over town rivals Atletico Madrid. Both teams came into the championship game with question marks.
Real Madrid midfielder Xabi Alonso was suspended as a result of excessive yellow card accumulation from the semi-final second leg against FC Bayern Munich. Real Madrid manager Carlo Ancelotti tapped German international Sami Khedira as a replacement to start the match.
For Atletico, striker Diego Costa made the start despite being hampered by a hamstring injury for some time whilst teammate Arda Turan was ruled out with an injury sustained against FC Barcelona the previous week. The game started out slow even though it looked early on that Atletico's physical play clearly overpowered Real Madrid.
In the ninth minute, Atletico manager Diego Simeone subbed out Costa for forward Adrian Lopez Alvarez, which prompted questions as to why Costa was starting to begin with. Atletico broke through in the 36th minute when defender Diego Godin headed the ball over goalkeeper Iker Casillas, who strangely went too far away from the net trying to clear the ball.
Real midfielder Angel Di Maria appeared to be the only player on Los Blancos to constantly break through Atletico's defense. He was constantly fouled whenever he was close to the penalty box, resulting in a couple of free kicks, one of which Cristiano Ronaldo kicked and was blocked amazingly by goalkeeper Thibaut Courtois. Real Madrid winger Gareth Bale had the best chance to score with a semi open shot but sailed the ball wide to the right. This caused uproar on Twitter resulting in users mocking his massive $121 million price tag.
With urgency rising, Ancelotti made two substitutions, replacing the ineffective Khedira with youngster Isco and Fabio Coentrao with Marcelo Vieria in hopes of a last gasp goal. As the clock ticked over 80 minutes, Atletico players began to taste the trophy as they tried to waste time by slowly getting up from the ground when they were tackled. This backfired as five minutes of penalty time was added after 90 minutes.
With La Decima slipping away, Real had a corner kick at the 92 minute mark to save their season. Luka Modric sailed it into the crowded area and defender Sergio Ramos headed it in the back of the net for the equalizer. Simeone meanwhile was livid on the sidelines at the officials for the five minutes of extra time. After that goal, it was clear the momentum had turned as Atletico looked exhausted compared to their Real counterparts. The Costa substitution put enormous strain on the group playing as his substitution could have been used at this time for fresh legs. Their best shot at the title was to take this into penalties. With only nine minutes to go in extra time, Real Madrid pressed into Atletico territory.
Di Maria, who had been at many times the only Real Madrid player to terrorize Atletico defenders, successfully made it through the defense and shot for goal. His shot was deflected off Courtois but was headed in the net by Bale, giving Real Madrid the decisive second goal. The goals didn't stop there. In a play that exemplified the tiredness of Atletico players, defender Vieria ran past defenders for a clear shot on goal that deflected into the net for a third goal. La Decima was more certain than ever at this point. To add insult to injury, Ronaldo scored on a penalty in the remaining few seconds to make it 4-1.
Finally, after 12 years, 11 managers, and over $1 billion in transfer fees, Real Madrid finally achieved La Decima.