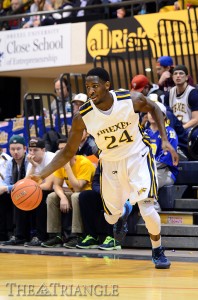 Saint Joseph's University Hawks (0-1) at Drexel University Dragons (0-1)
7 p.m., Daskalakis Athletic Center
Momentum Check
Both teams enter Monday, Nov. 16's home opener having lost their first contests of the season, both on Nov. 14.
For Drexel, it was a 65-48 road loss at the hands of the University of Colorado. The Dragons played tough in the first half despite finding their old foes, foul trouble and missed shots, but lost steam in the second half and watched a superior Buffaloes team put the game away with relative ease. Colorado dominated the paint and made light of fast break opportunities, and the Dragons managed just 19 second-half points.
The Hawks opened their season at home, but the familiar environment did little to help their prospects against Fairleigh Dickinson University. The Hawks graduated a handful of talented seniors and were expected to be in a bit of a rebuild, but the loss to a lesser FDU team — on a three-pointer with four seconds to play — was an excruciating way to kick off the year for Phil Martelli's squad.
Players To Watch
Drexel guard Damion Lee: In his first game action since November of last year, Lee showed flashes of his brilliant athletic play but ultimately looked rusty in the season-opening loss to Colorado. He finished with 12 points on 14 shots, and saw just 29 minutes of action because of foul trouble. If the junior guard can limit his interaction with the referees, expect him to see big minutes in his first home game in nearly 20 months.
St. Joe's forward Isaiah Miles: A reserve for his first two seasons as a Hawk, Miles had quite the coming out party against Fairleigh Dickinson. The junior forward played 33 minutes against the Knights, leading all players with 12 points and 14 rebounds. The 6-foot-7, 233-pound forward showed he has a little range last season, hitting 14 three-pointers and knocking one down in the opener. He'll be a good defensive test for Drexel sophomore forward Rodney Williams.
Last Time Out
These two teams met last season, with the Hawks getting the better of the Dragons, 75-55. Drexel entered that game riding a four-game win streak and led by four points at halftime, but the tournament-bound Hawks were simply the better team, that night and all season long. Then-senior forward Halil Kanacevic poured in 27 points and snagged 14 rebounds for St. Joe's, the first win of a 9-1 stretch that vaulted the Hawks into Atlantic-10 contention.