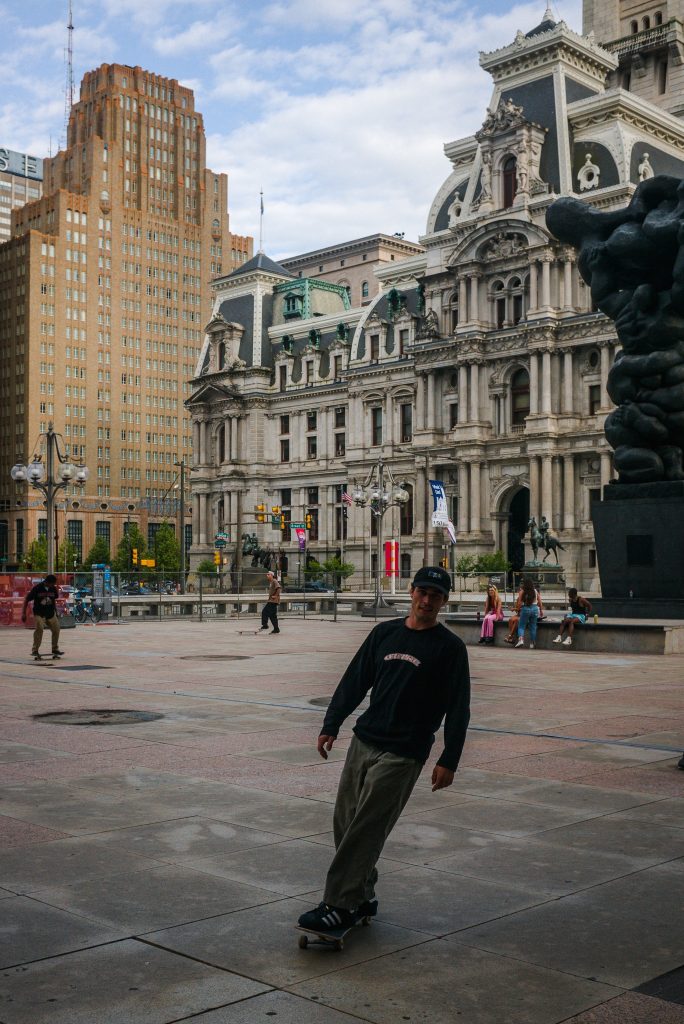 After decades of popularity, Philadelphia's most beloved skate spot is being shut down. Since 1996, Thomas Paine Plaza, located outside of the city's Municipal Service Building (or 'Muni') has been home to an art installation called "Your Move" which featured giant game pieces scattered about the plaza: chess pawns, towering dominos and even an iron from Monopoly. Conveniently for the city's thousands of skateboarders, these pieces along with the granite benches that lined the plaza functioned perfectly as obstacles one might find in a skatepark.
The bustling skate scene in Philadelphia was born in the heart of the city, at Love Park in the early 90s. Formally known as John F. Kennedy Plaza, its architecture attracted skaters worldwide to experience the iconic East Coast spot. Up until this point, street skateboarding was still relatively underground in comparison to vert or freestyle skating, but its popularity grew quickly due to the influx of skateboard tourism to Love Park. In turn, the city cracked down, banning skating there on two separate occasions in 1994 and 2000.
Philadelphia's skate scene's love for Love ran so deep that popular shoe company DC offered $100,000 per year to go towards repair of any damage caused by skating if the city were to keep skating legal in the park. The legal troubles of skating at Love continued for years with more and more hindrances to skateboarding. If you go down to Love now, you will see the park was redesigned into one great big concrete oval: quite the metamorphosis from the street skateboarding paradise that it once was.
The Philly skate scene was brokenhearted, but not for long. Looking just down the street, skateboarders began to be slowly attracted to Muni. In the 90s, this was a nearly impossible spot to skate. Security guards would exit the building and kick groups of young skaters out before four wheels even touched the ground. However, as Love became more difficult to skate, Muni became the easy choice for a new utopia in Philadelphia skateboarding.
The accessibility of Muni was a contrast to Love. At Love, skaters would have to scramble to grab their things and run from the cops every few hours, whereas the convenience of Muni allowed for a more relaxed nature. Rather than the focus being entirely on the tricks being done and the clips being filmed, it began to center on garnering friendships — a true community. At any time of day, locals and visitors alike could arrive at 1401 John F. Kennedy Boulevard and find a crew of people to skate with. Watch any Philly-based skate video released in the 21st century (any of the Sabotage videos, "Down Bad," or "Some Pulp" to name a few), and you will surely see those larger-than-life game pieces and beautiful granite benches that Muni is home to being skated.
Despite the glory days of Muni being seemingly endless, they indeed have come to an end. Professional skateboarder Jahmir Brown posted a tragic image of the plaza fenced off to his Instagram story on May 17. The fence had a sign with the message, "Another milestone in Philadelphia's progress: Paine Plaza restoration phase 1." To Philly skateboarders, this is another milestone in the city's malice against skateboarding. First Love is torn apart, and now Muni is on its way to becoming a greenspace instead of the beating heart of the gritty skate scene that it once was.
As the social media posts continue to flow out of Muni skaters' accounts, it is apparent how much this plaza has meant to Philly skateboarding. Philadelphia skateboarders are going through true grief, taking group photos at the spot, and skating the remnants of the plaza as it gets slowly picked apart. What's next? The spirit of the scene migrated once, and is now up in the air, waiting to do so once again and find a new home. The passion and vigor of the Philadelphia skate scene is bound to lead it to be carried to a new hub. In the meantime, all one can do is soak up Muni's last days.