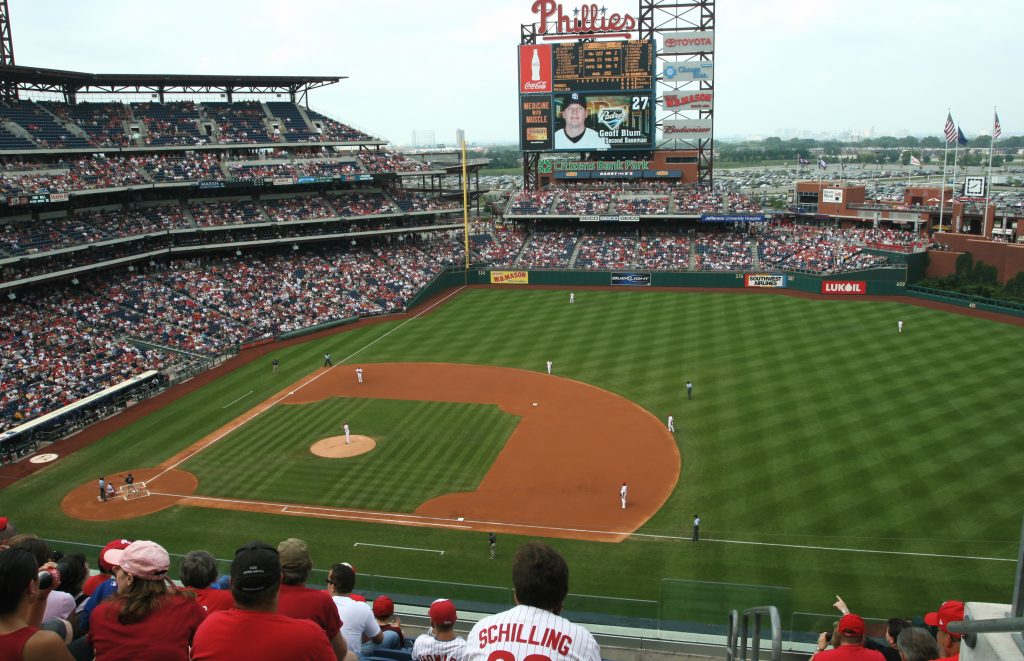 It was another tough finish for the 2023 Phillies, as they lost what seemed like a sure NLCS series to the underdog Arizona Diamondbacks. In a National League East division that will not be easy next year, the Phillies' Front Office, led by President of Baseball Operations Dave Dombrowski, will look to make some big moves to bring the Fightins' back to Red October in '24.
Pending Free Agents
This group of players' contracts expired following the 2023 season, and unless re-signed by the Phillies, could find new homes in 2024.
Aaron Nola, RHP, 30-years-old. 2023 stats: 12-9, 4.46 ERA, 202k, 2.1 bWAR·
Rhys Hoskins, 1B, 30-years-old. 2022 stats: .246 AVG, 30 HR, 79 RBI, 2.9 bWAR·
Craig Kimbrel, RHP, 35-years-old, 2023 stats: 23 saves, 3.26 ERA, 1.8 bWAR·
Michael Lorenzen, RHP, 31-years-old, 2023 stats: 4-2, 5.51 ERA, -0.1 bWAR
Nola, along with veteran right-hander Zack Wheeler, have anchored the Phillies rotation for the past four seasons, but after a poor 2023 regular season, many Phillies fans were skeptical of a Nola extension. His postseason performance calmed these nerves, however, as Nola posted a 2.35 ERA in 23 innings, and won three games for the Phillies. With Nola being one of the best pitchers on the market this offseason the Phillies will likely have to spend big to bring Nola back for 2024.
After being one of the Phillies more consistent bats since his debut in 2017, Hoskins missed the entire 2023 season with a torn ACL during spring training. In his absence, Bryce Harper, took his position at first base and excelled, hitting 10 home runs in only 36 games while manning first, and playing better defensively than Hoskins. In a press conference last Tuesday, Dombrowski said Harper was the best option to play first base, and will continue at the position. This almost fully guarantees that Hoskins will not return to the Phils in 2024, a sad piece of news for many die-hard Phillies fans.
Kimbrel joined the Phillies in 2023 with a track record as one of the greatest closers in baseball history. Kimbrel earned All-Star honors and saved 23 games for the team, but his 0-2 record and 12.00 ERA in the NLCS was one of the largest contributing factors to the Phillies' early exit to the Diamondbacks. With the Phillies getting great bullpen production from less expensive relievers like Jeff Hoffman, Matt Strahm, and Dylan Covey, don't expect Kimbrel to be back in red next season.
Michael Lorenzen was a mid-season acquisition by the Phillies in 2023, who had put up his best numbers as a starter for the Tigers, and earned an all-star nod. Lorenzen immediately cemented himself in Phillies history by throwing a no-hitter in just his second start with the team. After that he posted an 8.02 ERA with the Phillies and was demoted to the bullpen. With the starting pitcher market expecting to be big this offseason, Lorenzen will likely take his talents elsewhere as well.
Free Agent/Trade Targets
With Kimbrel, Hoskins and Lorenzen likely on their way out of Philadelphia, and a few spots still needing addressing this offseason, who are some players the Phillies could target this winter?
Blake Snell, LHP, 30-years-old: Snell is a two-time Cy Young winner, including in 2023, and led all of baseball with a 2.25 ERA this past season. If the Phillies decide not to give Nola a monster contract, Snell could also be worthy of a big contract, and could add another big piece to the Phillies rotation.
Sonny Gray, RHP, 34-years-old: A 3x All-Star, Gray had his best season in 4 years with the Twins, posting a 2.79 ERA, and 183 strikeouts. Gray could be too expensive for the smaller budget Twins, so the Phillies could swoop in and grab an uber-consistent arm like Gray to help their rotation in 2024.
Yoshinobu Yamamoto, RHP, 25-years-old: The Nippon Professional Baseball League ace will be posted for MLB teams to sign in the coming weeks, and the Phillies are reportedly going to be heavily interested in signing the Japanese phenom. Yamamoto helped Japan win the World Baseball classic in 2023, and would be a huge addition to the Phillies rotation.
Shohei Ohtani, RHP/DH, 29-years-old: Arguably the most talented baseball player of all time will be available this winter, and every team should have varying levels of interest, including the Phillies. It may be hard to find a spot in the lineup for Ohtani given he can only hit as the DH, but if a player of his caliber is willing to come to Philadelphia, arrangements will be made to make it work.
Josh Hader, LHP, 29-years-old: After the bullpen was a huge strength for most of the regular season and postseason, the group struggled towards the end of the NLCS, contributing to the Phillies' crushing loss. The team may look to make a splash in that department, and Hader is a solid fit. The hard-throwing lefty has long been a target of President of Baseball Operations Dave Dombrowski, and he has a shot to land him this offseason.
Kevin Kiermaier, OF, 33-years-old: With Harper moving to first base full time, and the atrocious defender in Kyle Schwarber likely moving to the designated hitter role, the Phillies could look to add another outfielder. Kiermaier would be a perfect fit, as the four-time gold glove winner would immediately add another bat to the Phillies lineup, and add some much needed defense to a poor-defensive outfield at Citizens Bank.
The Phillies have a lot of questions to answer, but as an attractive free agent destination and having an elite core of players already in place, with a good off-season there is no reason to believe this team won't be right back in the postseason next year fighting for another World Series title.