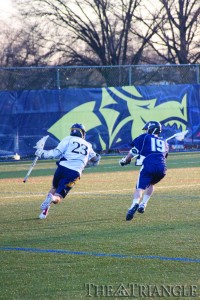 After four seasons as a Dragon, senior Scott Perri has earned the highest honor of all. The attackman has been named the Colonial Athletic Association Player of the Year in a vote made by the league's seven head coaches.
"CAA Player of the Year has made it an almost perfect end to my senior year," Perri said. "We didn't finish the season the way we wanted to, but personally receiving the Player of the Year honor was amazing … I play the game because I love it, but to receive an award for it makes it sweeter."
Receiving top honors is nothing new for this all-star athlete. Perri earned the title of Athlete of the Year at Smithtown-West High School, and was nominated for both the Suffolk County Athlete of the Year as well as the National High School Heisman.
During his time in high school, he was a two-time All-League selection in lacrosse, basketball and football. He even kicked the longest field goal in his school's history. And let's not forget about soccer — Perri holds his high school's soccer record for the most goals scored in a single season. With such talent, choosing which sport to pursue in college would be a difficult decision for anyone — but not for Perri.
"I have always loved lacrosse and felt so comfortable and confident in myself — [I] knew that I could establish myself as a great player in Division I," Perri said. "I could have played in Division I for soccer as well, but lacrosse is a great sport and combines the best of all sports." Although Perri excelled in all sports, lacrosse has always had his heart.
"Lacrosse has [always] been the biggest part of my life — I was born with a lacrosse stick in my hand," he said.
And he certainly has the stats to prove it. Upon finishing high school, Perri had 86 goals and 108 points. He also set the school record with 242 career points.
His talent on the field spilled over from high school to college. As a freshman at Drexel, he was a member of the CAA All-Rookie Team and scored 15 goals in just 13 games. He finished the 2008 season fourth on the team in goals.
Sophomore year, Perri also finished fourth on the team in scoring. He made multiple big-game goals against tough competitors such as Villanova University and Saint Joseph's University. In total, he had 13 goals and nine assists as a sophomore.
Moving into his junior year, Perri earned the title of co-captain of the team. His 2010 season opened with a good omen when he had a hat trick and an assist against the University of Virginia — but the highlight of his year came later in the season.
"During my junior year, beating No. 3 ranked Notre Dame on Vidas Field was an amazing feeling," Perri said. "I was lucky enough to hand out the winning assist to Robert Church. The feeling I had I can't even put into words."
In total, he scored 22 goals and had four games with at least one hat trick. He was tied for fifth in the CAA in assists per game, with a total of 19 assists on the season. Perri concluded the 2010 season with 41 points.
Even with a laundry list of accolades, Perri's senior year trumped them all. He leads the conference and is second in the National Collegiate Athletic Association for points scored per game — and that's just the tip of the iceberg.
Perri leads the CAA in goals (39), assists (27) and points per game and is top-10 in the nation for each category.
"Coming into the season I knew my role on the team grew substantially once I was named captain. Knowing that I was a senior, I knew I had to leave everything out on the field every game," Perri said. "I didn't want to have any regrets looking back — I had personal goals for myself, but none of them as high as leading top four in every category when the season was over."
On eight different occasions this season, Perri scored three or more goals, and on three different occasions he had five goals. He finished the year with 66 points, which is the most scored by a Dragon since 1991.
"There are so many great players that have been through the ranks at Drexel — I am just happy to be a part of the program," Perri said. "If my name were mentioned with some of the other greats that have been here before me I would be honored."
Perri finished his career 11th all-time at Drexel in goals (89), 10th in assists (59) and 12th in points (148).
For young players who aspire to have a career like Perri's, the guidelines are simple.
"Always continue to work hard," Perri said. "No matter how many failures or disappointments you may have, push through and continue to try your hardest. Put extra time in while your opponent isn't practicing and in the long run you will be more successful."
Drexel is losing a tremendous player in Perri, and he will certainly be missed.
Although Perri is hanging up his lacrosse gear, he is moving onto the next phase of his life in the business world.
As Perri said, "I have loved the game for so many years, [but] I'm excited for what the future holds with lacrosse not being the number one thing in my life anymore."
Drexel looks forward to seeing what endeavors Perri excels in next.