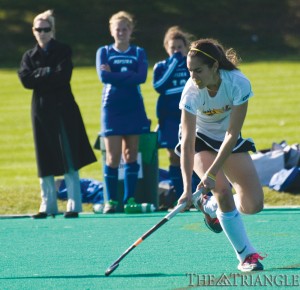 Senior forward Christina Mastropaolo received her second consecutive Colonial Athletic Association Player of the Year award. She finished her senior year with 14 goals.
The 2010-11 Drexel athletic year was filled with ups and downs for Drexel. Through it all, many Dragons proved their worth as top athletes in their respective teams. I sat down and took a look at this past year of athletic competition and attempted to whittle that list of 2010-11's top Drexel athletes down to 10 — here's what I came up with:
1
Scott Perri (attackman, men's lacrosse): Drexel will head into the 2011 lacrosse season with an enormous void to fill after the graduation of attackman Scott Perri. The senior had one of the best (if not the best) seasons ever for a Dragon lacrosse player. The Smithtown, N.Y., native finished the season as the team leader in goals (39), assists (27) and points (66). Those incredible statistics landed him atop the conference in each of those categories as well, earning him the title of Colonial Athletic Association Player of the Year. Perri also earned national recognition with his play, trailing only Cornell's Rob Pannell — winner of the United States Intercollegiate Lacrosse Association Outstanding Player of the Year award — in points per game with 4.71. Perri was also fourth in the nation in goals per game with 2.79, and was the 2010-11 male recipient of Drexel's Semanik Award.
2
Christina Mastropaolo (forward, field hockey):
There's no other way to lead into the description of Christina Mastropaolo's 2010 season other than by saying she finished it by earning her second consecutive CAA Player of the Year Award. Drexel's 5-foot-7 forward finished her senior season as the team leader in goals (14), assists (nine) and points (37). She also ranked in the top five in the CAA in each of those categories. Mastropaolo also lead Drexel to its second consecutive Conference Championship game, both hosted by the Dragons. Her season was highlighted by a few games, but one, a Sept. 24, 2010, 5-2 home win over Hofstra, stands out because Mastropaolo scored all five of her team's goals, setting the program record for most goals in a game. She was honored as the female recipient of Drexel's 2010-11 Semanik Award.
3
Paige Collings (cat-cher, softball): A British Columbia native, catcher Paige Collings will be representing Drexel as a member of the Canadian national softball team. Before qualifying for such an honor, Collings had put up the numbers to prove she deserved it. In 2011, Collings led the Dragons in batting average (.333), home runs (nine), runs batted in (33), slugging percentage (.612) and on-base percentage (.409). She was also ranked in the top five in slugging, RBIs and home runs. Those nine home runs set the mark for Drexel's new single season record which stood at eight — she had set that record the previous season. Collings was also an All-CAA First Team selection — her third in three seasons — as well as a Philadelphia Inquirer Academic All-Area team honoree. With five more home runs, Collings will tie the program record, and she is just 21 RBIs shy of 100 for her career.
4
Ian Jevnick (men's diver): After another season filled with success for the senior diver from Folsom, Pa., Ian Jevnick headed into 2010-11 postseason ready to go for gold — again. Drexel's top male diver had already won the CAA Most Outstanding Diver award in his junior year, along with the 1-meter CAA title, and a silver in the 3-meter. Jevnick once again took home the title on the 1-meter board and placed second in the 3-meter. For his efforts, Jevnick was named Male Diver of the Meet. In addition, he was invited to the National Collegiate Athletic Association Zone "A" Championships. He placed eighth in the preliminary 1-meter round, continued on to the championship round and placed seventh overall. Jevnick also placed ninth in the 3-meter championship.
5
Hillary Allen (pitcher, softball) Like Collings, Hillary Allen will also be heading into her final season as a Dragon in 2012. But in 2011, Drexel's ace put up statistics that garnered First Team All-CAA recognition as well as, Philadelphia Inquirer Academic All-Area team honors. Allen compiled a team-high 11 wins last season while posting a 2.93 earned run average in a career-high 160 innings pitched. She also struck out a career-high 92 hitters. In the CAA, Allen ranked in the top five in innings pitched, wins and games started. The New Jersey native not only produced in the circle, but behind the plate as a utility player. Allen hit .309 with four home runs and 21 RBIs, which were all career-highs.
6
Megan Halicek (women's diver): Drexel diving standout Megan Halicek began her postseason at the CAA Championships by taking second place in the 3-meter event. Next, she participated in the finals of the 1-meter event and took home the title. The Ohio native earned an invite to the NCAA Zone "A" Championship with Jevnick after earning the title of Female Diver of the Meet at the CAA Championships. At the Zone Championship, Halicek placed fourth in the preliminary round of the 3-meter event and finished 10th in the finals. The next session was the 1-meter event, which she dominated, placing fourth in the final round.
7
Kamile Nacickaite (guard, women's basketball): Heading into the first season in the post-Gabriela Marginean era, head coach Denise Dillon was looking for someone to step up and try to fill the void. Kamile Nacickaite did just that. The junior from Lithuania led the Dragons in scoring (17.6 points per game) and rebounding (6.3 rebounds per game) as well as being the number four scorer in the conference. She led the CAA in three-point percentage (.478) and was fourth in three-pointers per game (2.3). In a season in which she led the Dragons to their third consecutive postseason appearance, the 5-foot-11 guard scored her 1,000th point as well as Second Team All-CAA honors.
8
Joe Booth (165 pounds, wrestling): Joe Booth is coming off just his second season as a Dragon but has already established himself as Drexel's top wrestler, as well as one of the top talents in the conference. The Bayville, N.Y., native is coming off a season in which he led the Dragons in wins (25), earning an at-large bid to the NCAA Championships, which were held in Philadelphia at the Wells Fargo Center. Booth posted an 8-2 record in the CAA, placing fourth at the championships. What makes this season so notable is that Booth, who competed at 157 pounds in 2009-10, earning CAA Co-Rookie of the Year honors, decided to wrestle up a weight class at 165 pounds in 2010-11, yet was still able to be more than competitive.
9
Samme Givens (forward, men's basketball): Now heading into his senior season as a Dragon, Samme Givens is coming off his best season yet. The Philadelphia native averaged 12.1 points per game along with a staggering 10.1 rebounds per game. His rebounding ability is the main reason he is one of the top athletes of this past year, as he ranked among the top rebounders in the nation (19th in the NCAA). In addition, he led the CAA in rebounding, being the only player in the conference to average double-digit rebounds. What makes his rebounding ability even more astounding is that the 220-pound forward stands just 6-foot-5, yet continues to put up remarkable numbers despite the fact that his counterparts generally have a significant height advantage.
10
Charlotte Wood (attacker, women's lacrosse): Heading into her senior season with the Dragons, Charlotte Wood is coming off of her best season. She led Drexel in goals (46), points (52) and game-winning goals (three). The attacker ranked second in the CAA in goals per game (2.71) and shots per game (5.47), while also ranking in the top-five in points per game (3.06) and game-winning goals, earning herself Second Team All-CAA honors as well as being named CAA Player of the Week twice. She also led the Dragons to the CAA postseason for the first time in program history.
I had a tough time getting this list down to 10, so you can take a look at the other athletes that made a case for a spot on this list — and remember; this is just my opinion …
Honorable Mentions:
Mark Manos (goaltender, men's lacrosse); varsity eight boat (women's crew); Alyse Maiden (attacker, women's lacrosse); Nikoloz Kurdadze/Manu Bajpai (first doubles, men's tennis); Liam O'Neill/Peter Schmidt (varsity pair, men's crew); Susan Ciufo (forward, field hockey).