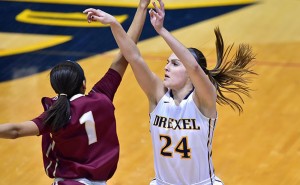 While the Drexel University women's basketball team couldn't string together two wins in a row over the last week, they were able to pull together two other accomplishments that were huge in their last contest.
Before they got to those accomplishments, though, they took a tough loss on the road Friday, Jan. 15 at James Madison University, one of the toughest contenders in the Colonial Athletic Association.
The Dragons only had the lead for a few seconds, as the only time they led was following their first basket of the game, which came off a layup from redshirt junior Jessica Pellechio.
Despite the fact that they trailed for almost the whole game, the Dragons didn't go down without a fight. They outscored the Dukes in the final quarter 17-11, cutting what was a 17 point deficit going into the final period into an 11 point one. The final score was 67-56.
Notable performances against the Dukes came from Pellechio and junior Sarah Curran, who each had 11 points for Drexel. Redshirt Meghan Creighton also added double digits with a total of 10 points.
But in the game following the loss at JMU, the Dragon performance was more than sweet. In their most recent contest versus Elon University Jan. 17 at the Daskalakis Athletic Center, there were both team and personal accolades in order.
The team pulled off their largest conference win in Drexel history as they crushed Elon by a whopping 43 points, totaling a final score of 74-31. The Dragons had a monstrous day offensively, as they shot 50 percent from the floor (28 for 56). But the fact that Elon could only put 31 points on the board in 40 minutes speaks volumes of the Dragon defense. Elon only scored 12 points in the second half.
The game against the Phoenix also meant something bigger for senior Rachel Pearson, who headed into the game two points short of 1,000 on her career. Just 13 seconds into play, Pearson scored a layup to enter Drexel's 1,000 point club. She is the 22nd member of the club.
On the whole against Elon, Pearson added 14 for the Dragons. Curran added 22, Pellechio netted 14, and sophomore Sara Woods added a career high eight points.
After last week, the record for the Dragons is 7-9 overall, and 3-2 in CAA conference play.  Drexel's next two contests will be on the road. On Jan. 22 they will travel to the University of Delaware to take on the Blue Hens, and on Jan. 24, they will travel to Northeastern University for a rematch against the Huskies.