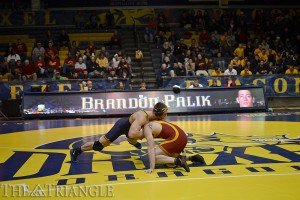 Brandon Palik is the kind of wrestler that every coach wants to have. He's the kind of wrestler who embraces a challenge and is always trying to get better. When it's not his turn to be in the spotlight on the mat, he's helping the other guys improve.
The redshirt senior had his share of college pickings when coming out of Saucon Valley High School as a successful wrestler. Lehigh University, which is located right in his hometown of Bethlehem, Pa., The Ohio State University, the University of Virginia and Bucknell University all wanted him.
Former Drexel wrestling head coach Jack Childs reached out to Palik, too. Palik was sitting on the beach in Ocean City, Md., when he received the call. Something specific about Childs' recruiting pitch stuck out to him: Drexel was the full package both academically and athletically.
Academically, Drexel gave Palik the opportunity to pursue a degree in business, an area that has long been an interest.
"Drexel's a great school and everything I had heard about the co-op [program] was incredible," Palik said. "I'm really into business, and I'm really into getting a job and making money. My first job was at 14, so I knew what I needed to get stuff for myself. I knew I needed to work hard to make money."
Athletically, Drexel offered Palik something unique as well, something that the other schools could not: a blank portrait ripe for painting. Palik had the opportunity to help shape the direction of the Drexel wrestling program.
"I had the mindset that if I wanted to do something [in wrestling], I could do it anywhere. I didn't need go to Ohio State or Penn State or Oklahoma State or Iowa State or any of those schools," Palik said. "I knew if I wanted to do something bad enough, I knew I could do it here at Drexel. To me, that's more challenging and gives me more satisfaction to do something big here at Drexel where we're not known for wrestling."
He continued, "I [thought] if I could do something and make a name for myself here at Drexel that would really put us on the map, it would help us attract even more recruits. I really just wanted to do something different. I knew if I wanted to be a national champion or an All-American, I could do it anywhere."
Childs, the coach who had recruited Palik to University City, stepped down in 2011, and Matt Azevedo stepped in. It was an instant change in culture, a shock almost. But Palik thinks that Azevedo's infusion of knowledge, passion and savvy was just what the program needed to take a leap forward.
"Coach Azevedo has really been upping the recruiting," Palik said of his current head coach. "He's doing more with social media and the marketing of Drexel wrestling as a brand. He's really trying to transform it into something better than it's ever been, and we're on that path, and we're doing it."
Just as Palik recognizes Azevedo's impact on the program, Azevedo sees what Palik has done as well. When Azevedo is asked about Palik, his eyes instantly light up. He knows that Palik is not only the top wrestler talent-wise on the team; he's a capable leader as well.
"He's a back-to-back NCAA qualifier and he's ranked anywhere from 11th to 12th right now," Azevedo said prior to the start of the season. "We're expecting big things from him this season."
Palik is thriving on the mat and living up to his coach's lofty expectations. He's ranked in the top 20 in the country in the 197-pound weight class. His record stands at 11-5, but a majority of his losses have been to nationally-ranked opponents.
He also embraces his position on the team as the senior leader. This year's edition of Drexel wrestling features a slew of freshmen in the starting lineup, some of who are still learning the kind of maturity wrestling at the Division I level demands.
It has been well documented that some of the guys have struggled not just to make weight, but to cut weight responsibly. Palik, the seasoned veteran, has been there every step of the way for the guys to offer his insight and experiences to make it all easier.
"I lead by example. They see what I do, and they take that and run with it," Palik said. "Sometimes I will get vocal with them to do this or that. They're young, but they still know what they're doing. They're the most talented class that I've ever seen here at Drexel."
He voiced similar concerns as his coach as he continued, "They just have to stay focused. Coming to Philadelphia, [there are] a lot of distractions in a city like this. The thing they can't do is stray off the path. They can't stray off the path because they came here for a reason and that's for wrestling as well as to get an education."
Although much of the team is taking this season to get acclimated to collegiate wrestling, Palik has his sights set high. He wants to win the conference — the Eastern Intercollegiate Wrestling Association — and he wants to be an All-American.
Right now, though, Palik is battling an injury to his ribs. It's the same injury that caused him to take a medical forfeit in his final match of the Southern Scuffle against an opponent from Cornell University. He said it may be a blessing in disguise of sorts, giving him time to rest and come back stronger to reach his goals when the pain subsides.
"I'm off of the mat for a little bit, but it's all right. Breaks are sometimes good," Palik admitted. "Every year I've had an injury around this time, and every year I came back like a ball on fire and really turned it up a level. Your body gets a little rest, you're hungrier to get out on the mat and you're fresh."
Palik won't be back in time for Drexel's first home match of the season Jan. 19 against Binghamton University at 2 p.m. in the DAC. Azevedo and the rest of the team hope Palik will be ready to go soon, because the Dragons need their senior leader back on the mat.