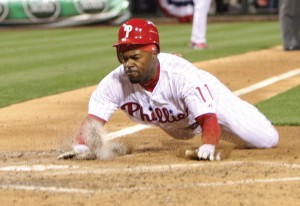 In the middle of an extremely disheartening season for the Phillies, it appears as though star shortstop Jimmy Rollins' baby girl couldn't have come at a more inconvenient time. Rollins' wife, Johari, gave birth to their first child, Camryn Drew Rollins, on the eve of the Phillies' game against the Washington Nationals May 21.
Typically, when a player brings a baby into this world, the Phillies family and fans welcome that child with open arms — so long as the birth doesn't conflict with a crucial competition. Seeing as the Phillies currently sit dead last in the National League East standings and have a record below .500, it's fair to say that this was one of those essential games.
One year ago, Major League Baseball began to enforce a rule that a player could miss three days, or the equivalent of 72 hours, to concentrate on being a new father. The rule was enacted so that players could tend to their new child without feeling guilty for leaving the roster for an extended amount of time. Furthermore, during that time, their spot could be filled on the roster so that the lineup remained as stable and unaffected as possible.
Other players in the past have taken this type of absence. Both Ross Gload and relief pitcher Ryan Madson took time off when their wives were delivering. So why all the controversy when Rollins wants to take a few days off to be with his child? Let's rewind for a moment.
As some of you may know, Gload has bounced around the Phillies' roster, mostly as a pinch hitter. Even though he had some nice contributions, he certainly wasn't an essential piece of the puzzle — so when the time came for him to take paternity leave, no one really noticed.
Madson, a successful relief pitcher, took the full three days to tend to his wife when she delivered their fourth child. At that point in time, the Phillies were a leap, skip and jump away from any other team in the NL East and sat comfortably in first place. Once again, even though Madson came through for the Phils time and again, his three days off didn't prevent the Phillies from progressing in the season and therefore went more or less unnoticed.
Rollins is another story completely. The whole season thus far has been a subpar flop. The bats of Chase Utley and Ryan Howard have been irreplaceable, and their absence has been a painful realization for a team that just can't seem to hit. As the veteran leader, it was assumed by players and fans alike that Rollins would rise to the occasion and lead his team to a successful start. Let's see how he's done. So far this season, he is hitting .229 overall and has a .295 on-base percentage. Seriously? That's absolutely ridiculous for the team's leadoff hitter. If anything, his lack of accomplishments from swinging the bat has demoralized the team.
Even so, it's unfair to stick all the blame on Rollins' shoulders. The hitting from his fellow comrades has been just as bad. Hunter Pence has reached base a few times this season, but not nearly as much as the Phillies expected from such a highly anticipated addition to the roster. Defense in the field has just been depressing — dropping balls and missing plays.  This is not the Minor Leagues; this is supposed to be one of the best teams in Major League Baseball, and they are looking like members of the Drexel club baseball team — no offense. Our superstar lineup has been trampled on by opposing teams. For crying out loud, Roy Halladay's once impeccable ERA went from 3.22 at the start of the Nationals game to 3.58 by the end, when Phillies Manager Charlie Manuel mercifully took him out of the game.
Clearly the subpar performance this season is not just from Rollins. However, his leave of absence, even for a minute amount of time, has caused quite the ruckus. When the Phils are doing poorly, some fans don't care if you had a baby or if you have dinner reservations with the President of the United States — all they care about is winning. Those are the fans who equate Rollins' absence with the team's failure. Those are also the fans with whom I don't like to associate myself. Being a die-hard Phillies fan means loving your team and its players on and off the field.
If a friend had a baby, you would be happy, right? You wouldn't say, "Oh no, you are going to take three whole days out of your entire professional life to spend those first few once-in-a-lifetime moments with your child and wife that you will never get back?" I think not.
Be happy for your player, rejoice that he brought a healthy baby into this world, and know that as soon as he steps on that field, he is going to do everything in his power to win for himself, for his wife, for his fans, and for his new baby girl.