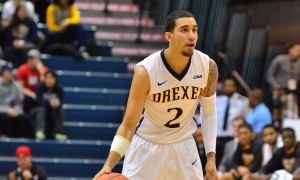 Freshman guard Sammy Mojica, Jr., entered the Drexel University media room, located four flights of stairs below Sam Cozen Court, cautiously. It was the first postgame interview of his young career as a Dragon.
"Just sit there," his head coach, James "Bruiser" Flint told him, stifling a laugh. "You're not too good with directions."
Mojica wasn't expected to play a huge role in the men's basketball team's plans this year. But the team has been bleeding available players all season, and when sophomore forward Rodney Williams went down with a stress fracture after the Dec. 28 loss to Iona University, the Dragons were down to eight players — five guards, three forwards.
As a result, Flint has been employing a four-guard lineup more often than not. He looked to Mojica to up his game, and the Chelsea, Massachusetts native has responded.
In the team's 53-51 over the College of Charleston, Mojica scored 10 points on four-of-six shooting, pulled down five rebounds and plucked three steals. The three steals were a team high, as were the four offensive rebounds he grabbed.
Since the Iona game, in which he scored 10 points, Mojica has averaged 5.7 points per game, but he brings more than just points to the floor, and it's by design.
"I try to be that guy to bring energy into the game," Mojica said. "That's what I do; I get steals, I go and grab rebounds, and I think I'm just that energizer for the team. I'll find my shots somewhere."
His head coach cracked a slight smile as his freshman answered the question, the first time Mojica had been asked by a reporter to evaluate his own play in front of his head coach.
"He's been alright," Flint chimed in, wryly. "Don't be gassing him up."
But Flint agreed with Mojica's assessment of himself.
"He's absolutely right, he does bring energy," Flint said. "I just want him to be a little smarter. Sometimes he gets out there. But I've been telling them that.
"One thing I've been telling him for the past two months — he didn't play much in the first however many games. He's the guy who just kept getting better in practice. He's been working on it, coming in, he gets extra time, so he's a little more confident out in the game.
"Now, he loses his mind from time to time, but he always comes in, plays with some energy, and he had confidence to come in today and make shots. He's been doing that a little bit. He went through a little streak where he didn't make any shots, but he did the other things. He rebounded the ball, he played some defense, those types of things like that."
In the second half of the Dragons' win over Charleston, Mojica scored eight points on five shots, an efficient second half after the team entered the break shooting just over 20 percent from the floor.
Flint said he told his players, repeatedly, that they needed to be ready to make shots and capitalize on chances. Shooting 20 percent wasn't going to win any games.
So Mojica came out of the locker room and poured in the second-most points of any Dragon in the final 20 minutes, including a pair of three-pointers.
"I think I just took in what coach was saying at halftime a lot," Mojica said. "He constantly kept saying, be ready, and I think he's been doing that for the past six, seven games, and I think today I really took that into consideration. I was ready each time I got the ball in the second half, and I just shot it."
With the team short on players, and by extension short on scoring options, Mojica's growth has been a revelation for Flint's young squad. For a player who wasn't supposed to be a big part of the Dragons' offense, Mojica has turned himself into a viable scoring option each night and has given himself a head start on his next three years in Flint's offense.
Of every player on the roster, Flint said, he thinks Mojica has made the greatest strides midway through the year. The freshman's effort has been consistent since he arrived on campus before the season began. Now, Flint said, he's just got to keep it up. But from what the head coach has seen from Mojica, that isn't going to be a problem.
"Sometimes you give guys compliments and then that's it, they think they're there," Flint said. "He has made the greatest strides of anybody on the team, so he's just got to keep on doing it."