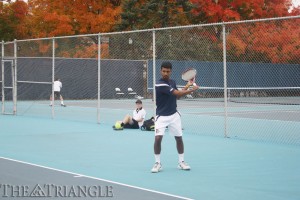 This weekend, Jan. 20-21, the Drexel men's tennis team will open up its winter schedule in Virginia for the Virginia Commonwealth 4-1 Tournament. The team had a strong fall season, finishing with a win in their only individual match of the season. As the team prepares for the indoor season, they know that a solid showing at this tournament could launch them to future success.

Drexel will be joining Campbell University, Georgetown University, Longwood University, Norfolk State University, the University of Richmond and host Virginia Commonwealth University at the tournament. There is a lot of hope for this team after a good fall season, but there is much room for improvement.

Last year the Dragons got off to a rough start to the 2011 winter season, and they could never recover from that start. After losing their first three early in the winter last year, they finished with a 7-6 overall record.

The Dragons will have both of their matches Jan. 20, facing off against Campbell at 10 a.m. and then finishing it off with a nightcap against hosting VCU at 6 p.m. Last season the Dragons struggled against the VCU Rams, losing 0-4 in the Colonial Athletic Association Tournament.

Drexel will then return to Philadelphia to face off against St. Francis University (Pa.) in the first of three straight home matches in the Drexel Armory. If the team can start strong in the individual matches this season, then they have a really good chance at finishing with a winning record once again. All the momentum, however, will rest on their matches that take place Jan. 20.

If Drexel is to succeed this weekend, they will need big contributions from Badr Ouabdelmoumen, Skyler Davis, Bryan Nguyen and Paul Stauskas. Those four were instrumental in the wins the team had in the fall and are needed to give the same amount of production.

As the season moves forward, Drexel will need to play the same solid way at home as they did last year. Last season they were 4-1 at home, and with six of their next eight matches at home, they can really jump out to a great head start on the rest of the league.