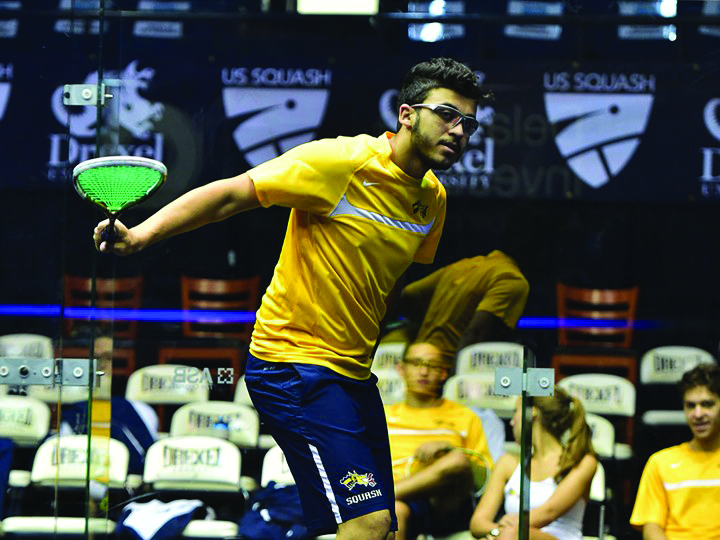 The Drexel University men's squash team went 1-2 in the 2017 Potter Cup. The Dragons dropped their first match in the quarterfinals by a score of 9-0 to Columbia University Feb. 17.
Sophomore Omar El Atmas, freshman Lucas Rousselet, junior Luke Willemse, junior Noel Solomon, freshman Mostafa Aboul Makarim, and junior Joshua Hughes were all swept by their Columbia opponents.
Sophomore Bransten Ming and junior Atticus Kelly lost their matches in four games. Senior Michael Thompson battled through a tough five game match but could not come out with the victory for the Dragons.
"They were a little nervous going into the match on Friday. Understandable as it was their first match in the Potter Cup. Obviously, the match did not go very well with a 9-0 loss start to the tournament. The guys were a little down after this match but had a good think, team dinner and re-grouped for their next match,"  Drexel head coach John White said.
The men's team got their victory of the weekend over the Yale University Bulldogs on Saturday, Feb. 18 in a consolation match of the Potter Cup. The finals score was 5-4.
El Atmas, Ming, Thompson, Rousselet, and Kelly all got wins for Drexel.
El Atmas and Ming won their matches with great effort in five games. Thompson and Kelly won in four games over their Yale opponents. Rousselet swept his opponent in straight sets.
"Saturdays match against Yale was their best of the season by far. This was by far the do or die match to secure the team's top six ranking and their best finish ever. They all came together and played great squash. It was exciting from start to finish, with Omar playing number one securing a very long match to win the fifth match for the team's win. Very emotional and well deserved 'W' for the guys!" coach White said.
The Dragons dropped their final match of the Potter Cup 7-2 against the University of Rochester Feb. 19.
The two Drexel victories came courtesy of Rousselet and Willemse.
Thompson and Makarim put up a strong fight but could not finish for a win in five games against their Rochester opponents.
The Dragons will now look toward individual championships March 3-5 in Hanover, New Hampshire.
"The top 6 are having a few day's rest as they will be the ones most likely heading to the individuals. It is back to the basics and playing as many matches as they can to keep on top of their game. The rankings will not be coming out for another few days so we will have to wait and see who will go or not," Coach White said.