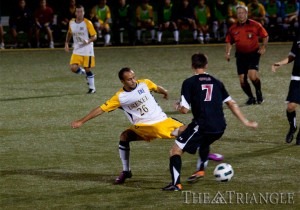 The past week has been a roller coaster ride for the Drexel men's soccer team. It started with a dramatic double-overtime victory by the Dragons thanks to a winner from sophomore defender Tal Bublil.
That goal was Bublil's first career goal for the Dragons. Early in the Oct. 22 game against Virginia Commonwealth University (9-7, 4-4 Colonial Athletic Association) the Dragons trailed after allowing an early goal by the Rams.
Sophomore midfielder Ken Tribbett had an opportunity to equalize on a penalty, but his shot was saved by VCU. The Dragons' equalizer came in the 68th minute, when Malcolm LeBourne put a shot past VCU goalkeeper Josh Pantazelos.
In the 108th minute Bublil finished off a strong throw-in from freshman midfielder Robert Liberatore and a header touch pass from Tribbett.
"Give all credit to Drexel. They outworked, outfought and outplayed us today, and they absolutely deserved the result," VCU Head Coach Dave Giffard said in an interview with VCUAthletics.com. "We gave away two shocking goals on restarts and got outworked for the ball all night. This time of year you have to grind out results and give a whole lot more than we did tonight if you want to play into November."
After that game the Dragons were two points out of qualifying for the ninth and final position in the CAA postseason tournament. An Oct. 26 win against Northeastern would greatly increase the Dragons' chances because of their first two victories.
James Madison, who will come to Vidas Field Oct. 29 for Drexel's final home game of the season, sits 7-1 in the CAA and is tied for first place. The Dukes are tied with Old Dominion, whom Drexel will face Nov. 4 in Norfolk, Va. for the Dragons' season finale.
Unfortunately, Drexel (4-10-2, 3-5-1 CAA) lost 3-0 to Northeastern (9-5-2, 5-3-1 CAA) Oct. 26 despite an amazing effort from sophomore goalkeeper Pentti Pussinen, as the Finland native made three outstanding saves to keep the Dragons in it in the first place. (in what?)
The Dragons also had three chances of their own, as LeBourne, coming off his goal against VCU, made all three shots but simply could not finish.
A win against Northeastern would have been the Dragons' first victory on the road this season and put them in great position to qualify for the postseason.
However, despite still being mathematically in play for the postseason, the Dragons are going to need considerable help from other teams and have victories in their last two matches in order to qualify for the postseason.
The Dragons can take a big step toward their goal by defeating James Madison on Senior Night at Vidas Field.