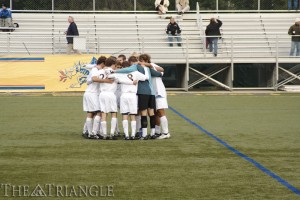 In an interview with Bryan Fyalkowski of The Triangle in November 2011, Drexel men's soccer head coach Doug Hess brought the curtain down on a disappointing 2011 season (5-10-3 overall, 4-5-2 Colonial Athletic Association) for the Dragons with these words: "when January comes around, we begin another cycle and start preparing for next fall."
So with the Dragons' winter practice sessions already under way, Hess and assistant coaches Bryan Green and Cory Robertson's hard work off the field has also begun to bear fruit. It was announced Feb. 3 that three young men have signed National Letters of Intent to join the Blue and Gold.
With only 14 goals scored in 18 games last season despite managing a respectable 215 shots on goal, the first of Drexel's recruits is understandably a forward. Fabio Machado joins Hess' side after a remarkable year at Burlington Community College in New Jersey that saw him score 21 goals and dish out nine assists in a 15-game season that ended with him being selected as a National Soccer Coaches Association of America/Continental Tire Men's Junior College Division I All-American.
Machado's resume also includes 23 goals in three years for the New England Revolution United States Soccer Federation Development Academy and 79 goals in his high school career at Leominster High School in Massachusetts. He also earned the All-New England standout in his senior year. The 5-foot-10-inch forward joins a Drexel side that returns four starters in the forward department in Malcolm LeBourne, Nathan Page, Manuel Cazares and Andrew Goldberg as well as sophomore Mark Donohue and freshman Ridge Robinson for the fall season.
Hess also addressed a problem position at left back when he signed Jameson Detweiler to a letter of intent. An injury to regular starter Skylar Olson early in the season saw the starting honors split between redshirt junior Jonathan Volpatti (11 games played and nine starts) and junior John Boswell (seven games played, six starts). In Detweiler, Hess adds a true left-footed defender to the mix.
A four-year starter at Walkersville High School in Woodsboro, Md., Detweiler brings an added three years of experience with the Soccer Association of Columbia club team, which he helped lead to a state championship last year. The true freshman is a welcome addition to a competitive battle for the full back position.
At midfield, Hess adds a player who follows a track he himself took not too long ago when he swapped the Campbell University campus for a place as Drexel's head coach. Jared Girard comes to Drexel having completed two years at Campbell, during which he featured for the Camels in 35 matches, including 23 starts and 2 goals.
The 6-foot-1-inch midfielder also counts four years with the Capital Area Soccer League Chelsea Football Club USSF Developmental Academy in Raleigh, N.C. on his resume. He will face tough competition for a starting spot in what has arguably been Drexel's strongest department during Hess' tenure.
Featuring sophomore Ken Tribbett (18 starts in 18 games; four goals and an assist; All-CAA mention and Don Yonker Team MVP in 2011), junior Brandon Zeller (17 starts in 17 games with two assists), junior Phillip Hagerty (17 games played and 14 starts) and freshman Matheus Goncalves (14 games played and one start), Drexel is definitely not lacking in options in the center of the park. Girard will have his work cut out to impress the Dragons' coaching staff and secure a starting place.
That the headcount for Hess's side increases to 30 players is cause for some concern. That said, 11 members of the squad head into the fall of 2012 as seniors and will be playing their final season in the famous Blue and Gold. To paraphrase Hess, another cycle has begun.