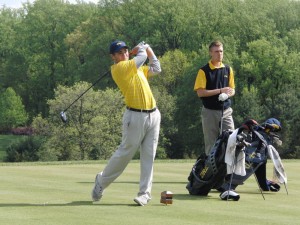 Sports, by their dynamic nature, are full of many analogies. Be it the New York Giants storming their way to a second Super Bowl title in five years after a fairly average regular season or Joel Ward's goal from the Capitals three minutes into overtime that knocked out the defending Stanley Cup champion Boston Bruins, the postseason is a place to alter the narrative of the regular season.
As the Dragons start the Colonial Athletic Association Championships this weekend, head coach Mike Dynda of the men's golf team is hoping that his young charges will have what it takes to turn around a season that has failed to live up to the highs of previous seasons.
Failing to register a top-10 finish as a team since the start of 2012, the team traveled to the Biderman Golf Club looking to find its groove against the formidable roster of the top-ranked University of North CarolinaWilmington Seahawks. The Dragons started out well, as co-captains Benjamin Feld and Michael Serensits stroked in 14 birdies on their rounds.
Michael Serensits, a senior competing in his last regular-season matchup for the Blue and Gold, combined with junior Benjamin Feld to take the match right to the 17th hole with the Dragons only behind by a single shot. A superb chip shot by Feld from off the green piled the pressure on the Seahawks, resulting in a missed birdie attempt. Victory eluded the Dragons, however, as on the final hole, the Seahawks were able to get par and thus end the match in a draw.
The "close-but-not-quite" theme continued throughout the day as  freshman James Parsons, junior James Braunsberg, and junior Vincent Anagnos were unable to turn encouraging performances into wins. Although resulting in losses, the team fared well against the defending UNCW Seahawks, and the performances of the day should boost the confidence of the Dragons to continue their progress this weekend as Wilmington Country Club hosts the CAA Championships.
The 27th edition of the championships will see the teams take on a par-71 course, which at 7,043 yards is the longest since the championships began in 1984. The Seahawks are heavy favorites to win the tournament for the second year in a row. However, there remains hope that the Dragons' strong performance last time against the Seahawks will bode well for their own hopes for postseason redemption.
And in a year that saw Bubba Watson win his first major with a stunning hooked shot from 164 yards away from a pin that he could not see, one would be remiss to rule out the possibility of a bit of postseason magic from Coach Dynda's Dragons.