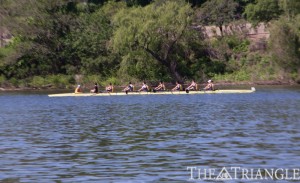 The Drexel University men's crew team traveled to England last week to compete in the Henley Royal Regatta, one of the oldest and most prestigious rowing competitions in the world. The Henley Regatta has taken place on the River Thames, by the town of Henley-on-Thames, since 1839. The competition lasts for five days — from June 27 to July 1 this year — and attracts top rowing talent from dozens of countries around the world.
Sponsored by Herbert and Karen Lotman and led by head coach Paul Savell, Drexel sent its men's heavyweight eight to race in the Lois Krall boat. The men's eight boat that competed in England consisted of senior coxswain Randall Lee, junior stroke Kurt Linton, junior Paul Wisniowski, sophomore Michael Faust, junior Lorenzo Albala, sophomore Sebastian Ryan, freshman Ryan Mallgrave, sophomore Vanja Busic and senior bow Will Masters.
The men's eight qualified for the regatta for the first time in University history and were one of 20 teams granted an automatic berth in the Temple Challenge Cup, a 32-team eights competition for male teams from colleges, schools and universities. The remaining 12 crews in the field were determined during qualifying in the days leading up to the event. Every race at the Henley Regatta is head-to-head, with the losers eliminated and the winners advancing until a champion is crowned.
The draws for the Temple Challenge Cup were determined June 24, and the Dragons' eight boat learned it would be competing against the Harvard University Crimson's lightweight eight, one of the toughest draws in the field. The Harvard lightweight eight entered the race undefeated on the season, with an Intercollegiate Rowing Association National Championship to their name. The Dragons approached the Henley Regatta with their own momentum, as they were fresh off a first-place performance June 23 at the 800-meter Reading Town Regatta, the team's final test before the race with Harvard.
Despite the Dragons' best efforts, the Crimson emerged with a three-length victory on the 2,112-meter course and eliminated Drexel. Harvard went on to lose narrowly to the eventual champion University of Washington in the semifinal race, a testament to the caliber of Drexel's opponent.
While the Drexel men's eight had an early exit from the Henley Royal Regatta, simply competing at such a world-class event was a great way to cap off an already-impressive season. The Drexel men's crew team's season was one of the best in school history and certainly indicates success to follow in the future of Drexel crew.