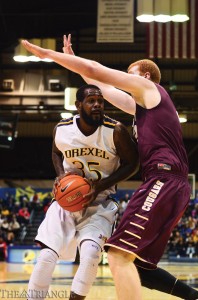 Fall 2010 was as important a three months as the Drexel men's basketball program has ever seen.
In the three years preceding that fall, the Dragons had compiled a combined record of 43-50 in their previous three seasons, good for a .462 winning percentage.
Those three subpar seasons came on the heels of a 23-9 season in which they topped Saint Joseph's University, Villanova University, Temple University, a No. 23 Syracuse University team, and the rival University of Delaware — twice. The Dragons made the National Invitation Tournament that season. The Drexel men's basketball program was flying high.
Three disappointing seasons and one season-ending Chris Fouch knee injury later, it was reeling. Then came fall 2010. A young second-team all-New Jersey high schooler named Frantz Massenat stepped onto campus. Towering behind him arrived the 16th-best fifth-year high school basketball player in the country, Dartaye Ruffin.
Massenat, Ruffin and a rejuvenated Fouch took the reins of a program down on its luck and in just four years turned Drexel basketball into a widely known — and respected — entity in the mid-major basketball community.
Those three played their final home game Feb. 26 at the Daskalakis Athletic Center. The evening featured plenty of fanfare, a smattering of applause, and a 56-45 victory over the College of Charleston to boost them to the No. 4 seed in this season's upcoming Colonial Athletic Association Tournament on their Senior Night.
But while the Dragons' elder statesmen were playing the game to benefit this season, the overarching feeling in the DAC Wednesday night was one of grand nostalgia and appreciation for what this senior class has done for the program.
"I always tell these guys that the last four years with this group have been unbelievable," head coach James "Bruiser" Flint said after the game, putting the finishing touches on this, his 13th season coaching in University City. "Sometimes as a coach you go home and you sleep with one eye open and your phone next to your bed. I never had to worry about that with these guys. They're good kids, they come from good families, and I told them I appreciate it.
"I always tell them, as a group, I say, 'Guys, you may be one of the best groups I've ever been around.' I told them I love them for that."
Flint is known for his steely demeanor and unflinching honesty. When you make a mistake on the court, the Philadelphia native lets you know. So when he pays compliments like he did Wednesday night, the emotion rings that much truer.
The players themselves said they felt the emotion of Senior Night in full force, right from the pregame ceremonies that featured each player's parents.
It was so emotionally staggering that Fouch, now a graduate student spending his sixth year with the team, shed a few pregame tears.
"Coming out there, knowing it was my last game in the DAC, it got to me a little bit after I'd seen my mother break down a little bit," Fouch said with a smile after the game. "I've just got a lot of memories in here, so it meant a lot to be able to go out with a win."
Leaving the building Wednesday with a win was clearly a must for the Dragons' seniors. Down 28-22 after a first half that saw the Drexel offense unable to find any rhythm — or hit a single 3-pointer — Massenat took it upon himself to spark his team's offense, as he has throughout his entire career.
Two minutes and 52 seconds into the second half, Massenat hit a layup and was fouled in the act, the Dragons down 30-28 at the time. After making sure the shot fell, he smacked the media table in a combination of frustration and elation. This game was going to fall his way. He would make it so.
"[Winning on Senior Night] is definitely in your mind," Massenat said after the game. "You're thinking all the time; you don't want to have your last home game go out with a loss. You've got to try to do whatever it takes to win, especially your last home game."
With his fifth and sixth points in the first half, Massenat became just the second Drexel player in school history to record 1,600 points and 500 assists in a career. This came in his 126th career start as a Dragon, having started every single game in his Drexel career thus far. It is the longest-standing streak of any Division I player in the country.
Fouch, on the other hand, is fifth all-time on the Dragons' scoring list with 1,688 points after scoring 11 on Wednesday.
Flint readily acknowledged in his postgame press conference how lucky he felt to have coached two players as talented as Massenat and Fouch.
"Statistically, Frantz and Chris, it's off the charts," he said of his two senior guards. "But they've been better people. They come from great families, great parents, always supportive. That's one of the things that has been great with these guys. And I'll be honest, I've been doing this for a minute now, and you're going to always have that. You cherish the moments. And it's been four years with those guys, and that's why we've had some of the successes we've had over those years."
Wednesday night was the culmination of four extremely special years for a handful of talented players and gentlemen under one head coach. And the DAC crowd, however sparse it may have been, played its part.
When Flint called timeout with 4.8 seconds to play to take Fouch and Massenat out of the game one last time, the 1,000-plus fans rose to their feet for a pair of standing ovations. Both players gave their head coach lasting hugs, Massenat's stretching longer. It appeared as if the emotions caught up with him in one moment.
After the game he talked about what was going through his mind as he took the bench next to Sam Cozen Court for the last time.
"Probably every moment I've been through, from my first game to my last game here," Massenat said with a smile. "Just couldn't really get it all together. I'm just happy I didn't cry.
"I mean, it's emotional, you know? You play a lot of games here. The people here like you, the fans like you, a lot of people say congratulations after the games, they talk to you all the time. Then it's your last time playing in front of them. It's definitely emotional."
Massenat channeled those emotions into his game Wednesday night. He led his team with 24 points, knocking down clutch free throw after clutch free throw, ultimately finishing 11 of 12 from the charity stripe.
In the end, Massenat, Fouch and Ruffin scored 43 of the Dragons' 56 points on Senior Night. It was a fitting finish for one of the finest senior classes in program history.
There is still one regular-season game to be played for Flint's Dragons. They head to Northeastern University (9-20, 6-9 CAA) March 1 to face the Huskies at 1 p.m. After that, the team will head to Baltimore to participate in the CAA Tournament, competing for a berth in the NCAA Tournament.
And an appearance in the Big Dance would certainly be welcomed with open arms by this group. It is, after all, the end goal set out by every team at the beginning of every season. But cementing this class's legacy? That was done over the course of the last four years.
To paraphrase Billy Beane, it's hard not to be romantic about basketball. With Fouch, Massenat, Ruffin and company, it was so damn easy.