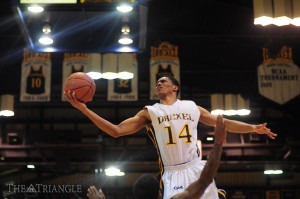 College sports are a constantly rotating turnstile; out with the old, in with the new. The ability to attract young, talented players on a consistent basis defines any program's long-term viability.

This year's Drexel men's basketball team will rely heavily on the old guard — pun intended — to lead the team throughout the season.

But the Dragons are adding five very important players to the squad, all of whom will be able to contribute immediately as well as grow with the program as it continues to develop in the coming years.

The incoming class of four freshmen — guard Major Canady and forwards Mohamed Bah, Rodney Williams and Khris Lane — are all bristling with potential.

The fifth new face on head coach Bruiser Flint's roster this year is Seton Hall University transfer Freddie Wilson, another guard, who is in his third year of eligibility after sitting out the second half of last season when he transferred to Drexel in December.

"Drexel was my second option after Seton Hall because they were recruiting me, too," Wilson said. "So it was just easier to come here, especially with [sophomore guard] Tavon Allen being on the team. We were real close buddies, and so he helped me get acquainted with everything, and it made it a lot easier."

Allen — a breakout performer last year in his freshman season with the Dragons — and Wilson both attended James Hillhouse High School in New Haven, Conn., where they formed a relationship.

A few years later, the connection brought Wilson to Philadelphia, where his attacking game as a guard will be used to bolster the guard depth in an area where it was lacking last season.

The Dragons' big three guards of Frantz Massenat, Damion Lee and Chris Fouch are all expected to be starters — at least in the beginning of the season — leaving Wilson and the aforementioned Canady with limited playing time to prove themselves.

But neither player seems to be bothered by this idea.

"I like the position I'm in right now," Wilson said. "I'm still in the learning process, so playing time is not one of my main factors. It's just playing, period, and being able to contribute."

Canady also weighed in: "I don't know if I'm 'cool' with it, but I'm always up for the team first," he said. "Of course I want to have a good year individually, but at the same time, team success is more important, so I'm going to do whatever I can to help support the upperclassmen."

This has to be music to the Drexel coaching staff's ears. In Wilson and Canady, the Dragons have acquired two extremely skilled guards who will provide more than serviceable relief when one of the big three needs a rest.

After the early-season injury to Fouch last year, then-sophomore Aquil Younger, who has since transferred to Division II Shaw University, was essentially the only help the guards had off the bench, forcing Massenat, Lee, and Derrick Thomas to exhaust themselves each game.

Now the Dragons can afford to rest knowing the ball is in good hands, in part because of their own imparting of knowledge on their younger teammates.

"[Massenat and Fouch] have been sharing their experiences with me," Canady said when asked what he's learned from the team's veteran guards. "When I do certain things, they'll tell me how I could do it better, how I could improve, what will happen if I continue to do it.

"And then, of course, playing against them [in practice] and having them blowing past me here and there, I've learned a lot."

Then there are the three freshmen forwards in Williams, Bah and Lane. These three need to have a more immediate impact on the team's performance if the Dragons plan to win in the Colonial Athletic Association and beyond this season.

Drexel's big men were a disappointment in last year's underwhelming campaign. With the graduation of Daryl McCoy, there is ample space for all three young men to carve out playing time for themselves.

The six-foot-seven-inch Williams said that none of them are wasting their time getting after it, knowing that a starting role may be on the line.

"It's three freshman forwards along with the other guys who are already here, so practice has been really competitive," Williams said. "We're just trying to get better every day and push each other and try to get on the court and secure a spot. Whoever's going the hardest that day or going the hardest in practice is going to play."

If he comes out on top, Williams just might find himself starting on this team. His size will be valuable under the hoop alongside senior forward Dartaye Ruffin, and his athletic game is a nice complement to Ruffin's more bruising post presence.

"I'm really athletic, so I really like to get off the floor, and I'm a pretty high leaper," Williams said of his biggest strength heading into the season. "[My athleticism is] one thing I think they'll be able to use, bringing a lot of exciting dunks and different plays to the game."

Right behind him is Bah, the six-foot-nine-inch behemoth forward from Mali. He played his high school ball in Maine, but Bah has become known on YouTube as "Mali's basketball god" through a highlight tape that displays his prowess around the hoop.

Bah, known around the team as "Mo," was taken under Ruffin's wing early on because of another outside connection that was rekindled in University City.

"He helped me a lot," Bah said. "I knew him already because we played on the same [Amateur Athletic Union] team. When I came here, the president of my AAU team told me I had a couple guys who played for Drexel, so it's been good."

The third forward in the pack, Lane, is slightly trailing in the early push for playing time because he is recovering from an injury that hampered him during the summer.

"I've been behind all summer, and really I have to work twice as hard as everybody else," Lane said of his fight with Bah and Williams for playing time. "I'm playing a lot of catch-up, doing a lot of learning, and, you know, just trying to get better every practice."

But Lane isn't too worried about missing out on valuable minutes. He said that he's very confident in the skill set he possesses, and as he continues to learn, the minutes will come.

"Bruiser has the mindset where, if you show yourself in practice, then anybody can play," Lane said. "I feel like being here with Bruiser, … I'll be able to become a complete player."

If he and the other four newbies can adhere to Flint's grueling system and continue to develop their talents, Drexel has very promising years ahead.

The four freshmen form a very solid nucleus, especially the three forwards. Once the current guard-oriented system passes after next season, the program could very well see a paradigm shift and begin to work on forward-focused scoring because of their personnel.

For this year, however, they should continue to work hard and learn the Drexel way of basketball. There's room for them to contribute in the short term, but the long term is equally important.

It's a long way to the top, and they're just getting started.