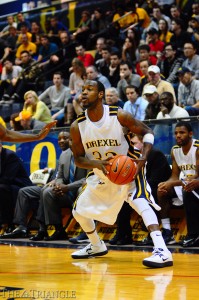 As the Drexel men's basketball team traveled to Harrisonburg, Va., to take on James Madison University Jan. 12, head coach James "Bruiser" Flint was shorthanded, as the Dragons had only seven players healthy and available to play.
Senior forward Daryl McCoy, who had been playing through a foot injury in the team's previous two games, losses to Towson University and Northeastern University, joined sophomore guard Damion Lee and senior guard Chris Fouch on the inactive list as Drexel looked to end a two-game losing streak.
"We could be down a few guys, but we have to get ourselves ready, and guys on the bench have to step up," Flint told Matt Leon of KYW Newsradio before the team headed south. "We'll do some different things because of the personnel we may have out there."
Early on, however, it was much of the same for the Dragons, as JMU jumped out to a 25-14 lead. Flint then called a much-needed time-out with 4:48 remaining in the first half to say a few words to his players.
In the 20-minute span that followed, Drexel responded with a 24-13 run to tie the game at 38-38 on a hook shot by junior forward Dartaye Ruffin. But just when a comeback was in the minds of the Drexel faithful, the Dukes went on a 10-0 run and hung on to hand the Dragons a 51-43 loss.
"It's a little frustrating because I feel like we're playing good enough to win some of these games," Flint said in a postgame interview with Drexel radio analyst Rob Brooks. "We're just not making the plays to be able to win them."
Senior forward Rayshawn Goins and senior guard Devon Moore scored 14 points apiece for JMU, as the two leading scorers combined to shoot 10-23 from the field, including 3-6 from the three-point line. The rest of the Dukes combined to shoot 7-23 from the field and 1-8 beyond the arc.
Similarly, JMU finished 17-46 (37 percent) while Drexel shot 17-47 (36 percent), but the difference was from the foul line, where the Dukes went 13-18 compared to 5-11 for the Dragons. Just as the team had done in its previous game against Northeastern, Drexel was able to limit its opponent on the offensive end, but the Dragons were unable to score at a good enough clip to win.
"We still [have] to put the ball in the basket, and we didn't do that today," Flint said.
Senior guard Frantz Massenat finished with three rebounds, three assists and zero turnovers but shot just 4-15 from the field en route to a team-high 13 points. Freshman guard Tavon Allen, filling in for Lee for the second consecutive game, struggled to find his rhythm, as he finished 4-13 from the field, including 0-5 from three-point range and 0-3 from the foul line.
Freshman forward Kazembe Abif was a bright spot for Drexel, as he filled in for McCoy in the starting lineup with six points and nine rebounds in 31 minutes before fouling out in the game's final minutes. All in all, the Dragons' bench, consisting of junior forward Goran Pantovic and sophomore guard Aquil Younger, played only 28 minutes.
It was not all bad news for the Dragons this week, as Seton Hall University guard Freddie Wilson announced he would be transferring to Drexel. The 6-foot-3-inch guard from New Haven, Conn., will be reunited with Allen, who was a teammate of his when he attended James E. Hillhouse High School.
Due to NCAA transfer rules, Wilson won't be eligible to suit up for the Dragons until January 2014, just in time for CAA play. Wilson saw limited action with the Pirates over the past two seasons, averaging only 7.6 minutes per game in 40 appearances, and he could benefit greatly from a change of scenery.
After a timely weeklong break, Drexel will look to get healthy before facing The College of William & Mary Jan. 19 in Williamsburg, Va. The Tribe enters the game on a six-game losing streak and with a 1-4 mark in the CAA, but with the statuses of Lee and McCoy up in the air, the Dragons will need to grind it out in order to grab their second conference victory.
Drexel will wrap up its three-game road trip Jan. 23 in Hempstead, N.Y., against Hofstra University. The Pride will look to avenge a 56-50 loss to the Dragons at home Jan. 18 of last season. In the game, Drexel broke a 50-50 tie with six points in the final 25 seconds to secure the win.