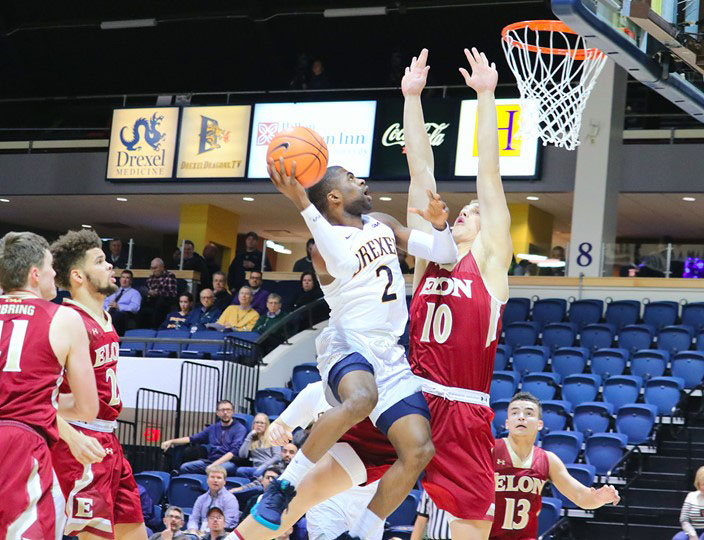 The Drexel University men's basketball team traveled to Harrisburg, Virginia, to play James Madison University Jan. 20. The Dragons lost to James Madison 75-73. Despite leading by three at halftime, the Dragons blew their lead and from then on it was a seesaw battle back and forth. Specifically, there were 20 lead changes and 17 ties in the game. Neither team led by more than five points. Junior Tramaine Isabell hit a three pointer with 1:51 left in the game to take a 71-69 lead. Despite this, James Madison rallied for six points in the final minute of the game thanks to a four-point play by freshman Matt Lewis, who finished the game with 20 points. A big factor in the game was that Drexel had only two points off turnovers, and James Madison had 17 points off turnovers. Drexel had a chance to win the game with two seconds left, but junior Troy Harper failed to connect on the three pointer.
Isabell led the Dragons in scoring with 21 points and 10 rebounds. On the year, Isabell is averaging 19 points and eight rebounds. Despite shooting 23 percent from three-point range, James Madison dominated down low as they scored 42 points in the paint. With this defeat, Drexel has now lost five straight and are 7-14 on the season including having a 1-7 record in the Colonial Athletic Association.
Drexel's next game was Jan. 25 against Elon University. The last time these two played, Elon won 90-75 on Dec. 30. Elon has won four of the last five meetings against Drexel. However, this time the Dragons fought until the last minute ending a five game losing streak with their first win since Jan. 5. The final score was 83-79.
The Dragons will play Northeastern University Jan. 27.