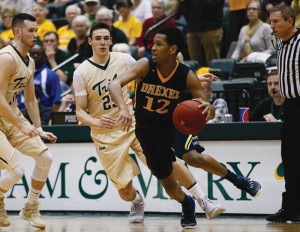 It seemed as if this week would me more of the maddening same.
In a back-and-forth matchup with the College of William & Mary, Drexel University was showing signs of life. An impressive first half against an opponent ranked fourth in the Colonial Athletic Association was beginning to fall apart. After a Terell Allen three that pulled Drexel back ahead 41-40 shortly after halftime, the Dragons allowed a strong drive by the Tribe's Omar Prewitt. Prewitt was fouled, and calmly completed the three-point play from the line. As Drexel trotted back to their offensive end of the floor, the thought of "not again…" had to surely cross some minds.
For Drexel had been here countless times before, strong starts fizzling out into disappointing second half finishes. Look no further than earlier in the week, in a home matchup with Elon. Drexel hung tough with the Phoenix, even leading by one at the end of the first, but a barrage from their opponent after halftime was too much for the Dragons to handle. A Bruiser Flint timeout early on in the second pulled his troops together, allowing them to go on a run of their own, holding a 62-56 lead with nine minutes remaining. And then came the vintage 2015-16 Dragon performance down the stretch. A three-minute lapse in focus included a pair of threes from hot-shooting Samson Taylor, aided and abetted by a pair of Drexel turnovers. With six minutes left, the Phoenix regained the lead for good, going on to win by a final of 81-76. Taylor led all scorers on the day with 19, but there were some key differences from the Drexel group.
First, Flint seemed to have finally found a rotation that works after a few weeks of experimentation. Tavon Allen, seemed to be comfortable in his new role coming off the bench, contributing 17 points of his own. Allen gives his coach some much-needed potency from bench, which had previously failed to generate much of a spark for most of the season. This change has led to some real positive signs. The turnover statistic, which had plagued the group for much of the season, dipped to only eight. Kazembe Abif has stepped up as a leader in the paint, providing some much-needed energy from the inside. On this day he scored 16 and pulled down 9 rebounds.
But the real promise was the play of Terrell Allen, who exploded back into the scoring column with 18. The lightning-quick guard who hails from the prestigious DeMatha high school program in Hyattsville, Maryland, is thought by many to be the cornerstone of the program going forward. However, after his strong first four games, in which he averaged 14.5 points per games and nearly five assists, his freshman season has been up and down. He dropped out of the starting lineup, and before Elon's matchup, had only managed 14 points in the previous five games. These struggles are natural for any freshman, as he had to adjust his game to the speed and expectations of the collegiate level. That said, for the Dragons to succeed, Terrell Allen's play from the point guard position is absolutely necessary.  
Fast forward to the second half of William & Mary matchup. In many situations this year, they have lacked the energy and individual playmaking on the offensive end to respond after falling behind in the second half. But Saturday was different for one reason: Terrell Allen was doing what Terrell Allen is capable of doing. After the Prewitt free throw, a streaking Allen completed a layup and was fouled. He knocked down a three on the next possession, and less than a minute later set up Tavon Allen for a triple of his own. Just like that, a bleak outlook for the Dragons turned into a convincing seven point lead, which they never relinquished, despite a shaky finish.
That's right, Drexel pulled out a win this week, knocking off a formidable William & Mary opponent. They did so while weathering a 29 point performance of Omar Prewitt, thanks to 16 points for Rodney Williams and a Abif double-double (12 points, 12 rebounds). Oh, and Terrell Allen? He had a career/season high 20 points on 8-11 shooting, including a rock solid 8-9 from the free throw line. If that is any indication of the Drexel Dragons' future, perhaps much brighter days lie ahead.