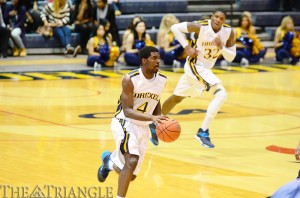 Drexel men's basketball head coach James "Bruiser" Flint is known best nationally for his stalwart defensive reputation. This season, however, his team has a different claim to fame: the Dragons commit the fewest turnovers per game of any team in the country.
The team has handled the ball well all season long, committing only 8.2 turnovers per game through 22 contests, which is tied with the University of Wisconsin for the fewest in the NCAA. Considering their head coach's penchant for limiting turnovers during his collegiate days, the Dragons have to be pleased with their sound hands thus far this year.
Flint certainly is.
"We've done a good job of taking care of the ball," Flint said matter-of-factly after Drexel's 61-50 win over University of North Carolina Wilmington Feb. 2 at the DAC.
"I say that I think the rules have helped, because one of the things teams did to us last year, they beat us to death. And they let you do that. So I think the rules have helped, but those guys have done a great job with it. That's the first thing on the board: take care of the ball."
The numbers certainly reflect Flint's mindset, especially as of late. After Monday's victory, in which the Dragons committed four turnovers in 40 minutes, the team has played seven straight games without committing more than nine turnovers. In their two games this week, the Dragons committed only 10 in total.
Five giveaways per game is a remarkable figure. And, Flint said, he's even more pleased with the limitation of "bad" turnovers as opposed to "good" turnovers.
"The turnovers we're having aren't throwaways," he said. "They're walks, … charges, things like that.
"There's what I call good and bad turnovers. A good turnover is a walk, or you charge, you've got a chance to play defense. A bad turnover is you throw it to somebody and you don't have a chance to play defense. We've been good at that. I bet if we charted that, we'd be even lower."
The man knows his team. In Drexel's last two games, five of the team's 10 turnovers were either charges or walks; i.e., "good turnovers."
Which means, in their last 80 minutes of game time, the Dragons have committed only five bad turnovers.
That's one every 16 minutes.
At the center of this mass of basketball efficiency is senior point guard Frantz Massenat, who is currently playing the best basketball of his Drexel career. In Monday's victory versus UNC Wilmington, Massenat attempted only one field goal in the first half and headed into halftime with two points.
He entered the game averaging 22.5 points per game in his last eight contests and Flint didn't appreciate Massenat's selflessness.
"I told him, we can't win games if you get one shot in a half," Flint said. "He starts to get in point guard mode and it's like, 'Dude, you've been scoring 30 points a game.'"
Massenat has also been dishing out assists and limiting turnovers for about a month now, and it's become apparent who is leading this Drexel offense.
This season, the point guard has piled up 116 assists to only 38 turnovers, good for essentially a 3-1 assist to turnover ratio. In his last nine games he has recorded 57 assists to 14 turnovers, good for a 4-1 ratio. This past week? Ten assists to two turnovers for a 5-1 ratio.
The numbers keep getting better, and with his continually impressive play, so does the team.
"Because he's been scoring 30 points a game, he's been getting a lot more assists," Flint explained, imploring his point guard to continue to attack the basket. "That's what he doesn't get. When you're aggressive, you'll get assists. Probably had more assists this month than he had his entire career before this month. Why? Go get at the basket. Be aggressive with it."
Another reason for the Dragons' resurgence is an increase in scoring depth and production from players who were previously injured during the team's 2-6 swoon from Dec. 29 to Jan. 25. Senior forward Dartaye Ruffin missed three games and junior forward Kazembe Abif missed five, and both are now back on the court.
During that eight-game stretch, the team relied heavily on Massenat, sixth-year shooting guard Chris Fouch and sophomore guard Tavon Allen. Those three combined for 72 percent of the Dragons' points in those games, and that includes two games played without Allen.
In the team's recent 2-1 stretch, those three have combined for 69 percent of the Dragons' points, while Ruffin and Abif have scored a combined 16.3 points per game.
Flint said he's glad that his team is starting to return to full health. He also wants the players who excelled during the swoon to continue to do so.
"Guys are starting to come back a little bit," Flint said. "We've got to — like I said with Frantz, [he] thinks, 'Everybody's back, I don't have to do what I did before.' [But] it makes us a better team if he continues to do that."
The Dragons split the past week, but the progress in their game is a marked and welcomed improvement. They have seven games remaining on their schedule, and the combined record of the five opponents is 51-65. Excluding the University of Delaware, the teams are a combined 34-58.
Drexel hosts James Madison University Feb. 8 at 2 p.m. They then head south to take on the College of Charleston for the first time this season, Feb. 13 at 7 p.m.