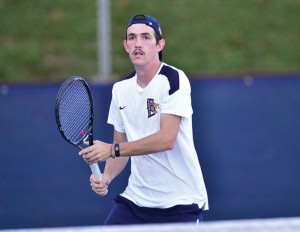 Drexel University men's and women's tennis teams both played at Villanova University Feb. 19, resulting in a win for the men and a devastating loss on the women's side. With a 6-1 overall record for both the men's and the women's team, the women updated their record to 6-2 with a 4-3 loss on Friday.
While they won last year against Villanova, the ladies fell short this year. Half of the singles matches ended up going to 3 sets, with only the No.1 singles spot, played by Honami Yawaza, winning a three-set match with a score of 6-3, 4-6, 6-3. Clary Rodriguez Cruz played the No.2 singles spot and won her match 6-2, 6-2, but lost in a tough tiebreak in doubles, playing with Yazawa; 7-6 (5). The other two singles 3 setter matches, played by senior Erin Bowsher and  Kendra Bunch, both resulted in loss; 4-6 in the first, a come back to win the second set by 6-3, but falling short in the third set with Bowsher losing 3-6 and Bunch losing 4-6.
Bunch played her doubles match with junior Lea Winkler who won her singles match 6-3, 6-2; yet, they both fell to Villanova's No. 2 doubles team with a score of 6-4. Ryshena Providence won her singles match; 6-2, 6-1 and played with Bowsher for doubles, but lost 7-5. The doubles points in this match were crucial but the Lady Dragons could not get any points. Next weekend, Feb. 27, the women and their 6-2 record will be traveling to Colgate University.
The men, on the other hand, won their match against Villanova 5-2, to improve to an overall record for 7-1 for this season.
Four of the six singles matches came out in victory with the the senior, Xabier Saavedra, losing at the number one singles spot with a score of 7-6 (2), 6-3.
The next 4 positions all prevailed, but the number 6 singles spot, Kashyap Ashok, lost his match in 3 sets; 3-6, 6-4, 6-5. Andrew Sinai playing alongside Subotic lost their doubles match 6-1 but Sinai proudly won his singles match with a 3 set score of 6-3, 6-7, 6-4. Balaji Lakshmanan, played the number 3 singles spot, winning 6-3, 6-2 and also triumphing in his doubles match with Hamza Laalej with a score of 7-5. Laalej came out on top in his singles match with another three-set win of  6-1, 5-7, 6-4.
Freshman Sinan Orhon had a very successful week as well. He won his singles match 6-0, 6-3, and his doubles match alongside Ashok  with a score of 6-3. He was also named Colonial Athletic Association Performer of the week last week. Alongside that, he also won the Drexel School of Education Athlete of the Week. Orhon is the first singles player to win CAA weekly honors this year, and was the third players to win in doubles. Also, Saavedra and Lakshmanan were named the Doubles Performer of the week in the beginning of February.
The men's tennis team also matched up with Monmouth University Feb. 24. The men took a loss to Monmouth with a score of 5-1 in the match. The Dragons' overall record is now 7-2.
The team will have its next match against Colgate University Feb. 27 at 7 p.m.